Category Archives: Metal Building Manufacturers
Worldwide Steel Buildings has designed and manufactured Hangars for customers all across the US and in several other countries. As an AOPA sponsor we understand protecting your investment is at the top of your list and are proud to say we have never lost a hangar due to weather. With several different styles available please stop by our Booth #4080 at The Spirit of Aviation EAA AirVenture in Oshkosh Wisconsin July 23-29, 2018 to discuss your project.
Summer is officially here – but we don't need to tell you that. Cities across the country have been experiencing record heat and high temperatures, and fall is still months away. It's hot out there!
Fortunately, air conditioning is available pretty much everywhere, and that certainly includes steel buildings. Each of our building kits is completely customizable to accommodate the specific climate control needs of your building usage. Keep in mind it will get cold again and you want to be prepared.
Flexibility to incorporate building systems
Whether you want to air condition the office space within a hybrid warehouse/office structure, or provide climate control for your entire garage, workshop, or single-family steel home, you can plan and layout your own HVAC (as well as power and other systems) for part or all of your building kit. Need a little help? Our experienced customer service team can work with you to understand your HVAC and systems needs and customize your building kit to achieve them.
Design elements to help you keep your cool
While HVAC is the primary means of keeping things cool in the warm weather, some of the most basic design elements can also be used to help manage climate and air circulation in your steel building:
Doorways / openings – with clear span buildings 24-225 feet, our steel building kits allow for large garage-style door openings on multiple sides of the building to provide cross-ventilation.
Windows – another obvious, but important one: our clear span designs also allow you to place windows to maximize (or minimize) natural light and ventilation based on your specific building site.
Ceilings / roofs – the open design of our building kits means you can customize the ceiling height and roof pitch to allow heat to rise to the top of your building, vent out of your building and away from your belongings, equipment – and from you.
Let us know how we can help – and stay cool! For more information about metal building kits contact us, or start designing your building with our online 3D Building Designer Tool by clicking the image below.
If you've owned a steel building in the past, or even if you've just been researching building options, you probably already know some of the benefits of steel: strength, durability, value.
But did you know steel is the #1 most recycled material in the world? According to the Steel Recycling Institute, between 60 and 80 million tons of scrap steel are recycled every year by North American steel mills into new steel products and components. In fact, scrap steel is an ingredient in producing new steel.
Our building kits at Worldwide Steel Buildings are made of approximately 94 percent recycled steel, all of it sourced from American steel mills. Using recycled steel gives our customers all the great features of steel – lighter yet stronger than other building materials; resistance to all types of weather; flexibility of design; and more – with the added benefits that come from recycling, including:
Performance. Because of steel's properties, it can be repeatedly recycled from one use or product to another without compromising structural integrity or performance.
Environmental impact. Recycling steel reduces the amount of resources consumed and emissions produced involved in creating steel products, reducing its impact on our environment and our planet.
Economy. Not having to produce new steel for every new product also reduces the cost of steel products to consumers – enhancing the already great value of this high-quality building material.
American manufactured. Worldwide is proud to use exclusively American steel, which means – because U.S. steel mills use largely recycled materials – that buying recycled steel is an important part of keeping money and jobs in our country and our communities.
(Source: Recycled Steel Institute)
Be sure to check out all the custom styles, finishes, and other options we offer, and give us a call to let us help you with your next (recycled) steel building project!
For more information about metal building kits contact us, or start designing your building with our online 3D Building Designer Tool by clicking the image below.
Our goal at Worldwide Steel Buildings is to provide our customers high-quality, affordable steel building kits customized to their unique needs or purpose. We love to share our customers' stories and the great things they are doing with our products:
Wings of Faith: "Real People Meeting Real Needs"
Wings of Faith Ministries provides ongoing support and donations to missionaries serving mainly Native American populations in California, Nevada, Arizona, New Mexico, as well as communities in Appalachian West Virginia. Their volunteer light aircraft pilots make more than 60 flights a year to bring food, clothing, medical supplies, and other aid to those who need it.
Several years ago, Wings of Faith purchased one of our steel building kits to house supplies and donations awaiting distribution to the communities they serve. Jim Yost, who coordinates logistics and deliveries for Wings of Faith, shared these thoughts and photos:
"Our building from Worldwide has proved absolutely invaluable in serving the very poor of the Native American reservations of the Four Corners area. I cannot imagine doing what we do without it. In May 2018, we moved over 50,000 pounds of supplies through this building."
Thanks to Jim for sharing your story, and for the great work your organization is doing to help others! To learn more about Wings of Faith, visit flywithwings.org.
How are you using YOUR Worldwide Steel Building? Let us know – we'd love to hear from you!
Summer is here – and wedding season has begun. June, August, September, and October are the most popular months for weddings, as well as other events such as family reunions, outdoor concerts or community gatherings.
Our high-quality steel building kits are fully customizable and an affordable way to create an event space tailored to your needs. Whether you own catering or special event business and want to offer customers a dedicated wedding/event space; your church wants to add or expand a reception hall, or you're a proud parent wanting to create a custom space for your daughter's (or son's) dream wedding, we are here to help.
Wide Open Spaces
Because they don't need columns, our steel structures offer clear spans from 24 feet to 225 feet, giving you clear floor spans and usable space all the way up to the peak.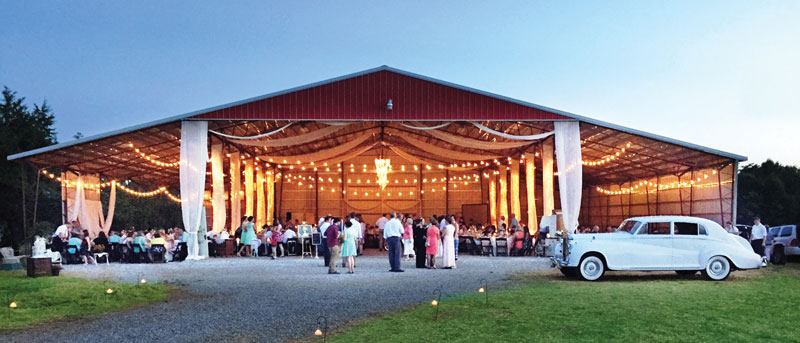 Durable and Economical
Steel building kits are a convenient and quicker alternative than traditional construction – and generally much more affordable. The value of our custom metal buildings, however, comes not just from the budget but from their quality, durability, and ease of assembly. We manufacture our own trusses, which are welded in precision jigs for accuracy, double dipped in a rust-proof coating, and inspected to ensure your structure will stand the test of time.
Finishing Touches for a Perfect Space
Both our interiors and exteriors are fully customizable with a variety of styles, colors, and finishes to ensure your event space is not only functional, but attractive. Our customer service team will work closely with you to design your space inside and out, from \ electrical, water and HVAC, to layout, interior walls, overhangs or porches, and finishes ranging from wood to stone to stucco. Want a rustic country feel? Our Gambrel barn specialists can help you create a classic look and charm to your space.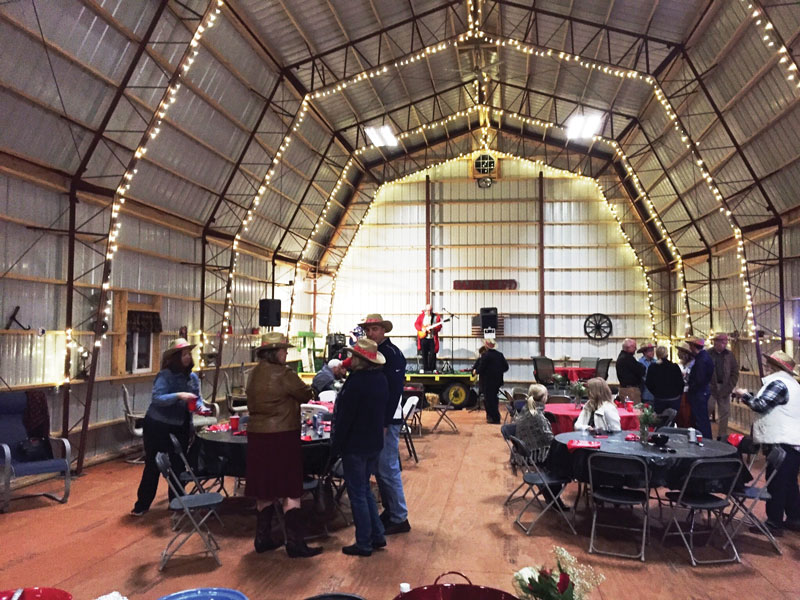 For more information about metal building kits contact us, or start designing your building with our online 3D Building Designer Tool by clicking the image below.
Worldwide Steel Buildings was recently honored by the Kansas City Business Journal as one of its 2018 Champions of Business. This annual program recognizes companies based in the Kansas City area that contribute to our community's economic strength and quality of life.
We are particularly proud to be a Champion of Business because the qualities the selection panel looks for are the same thing we believe allow us to provide a great product and great service to our customers:
Innovation
Our commitment to create steel buildings customized to each customer's exact needs drives us to constantly find new and innovative ways to deliver on that promise. This includes our 3D Building Designer tool, which we developed to help you design every aspect of your dream building before you order. It also includes our approach to designing and manufacturing our steel building kits for easy DIY assembly to streamline budget and timeline. And, it's why we love working with our customers to make their unique building ideas a reality – you are part of our innovation team!
Strength and Stability
Just like our building kits, Worldwide Steel Buildings starts from a solid foundation. We own and operate our own manufacturing facility so we control every aspect of quality and fabrication to meet your expectations. We work hard and smart to ensure you are getting an outstanding value, backed by our 50-year warranty. Our focus on giving customers a great product and great service with great value has kept us going and growing for 35 years, so you can be sure we will be here when you need us.
Giving Back
Most importantly, we are committed to being a great place to work to help our employees and our community thrive. As our owner, Jeff Snell, told the Business Journal: "Having an enjoyable place to work is part of the culture, but on top of that, we want our employees to feel empowered to make decisions and make the right decisions based on the customer experience and pride in their work."
We take great pride in being able to give back to our community through creating jobs and contributing to the local economy. Also, by using exclusively American-made steel, we are not only ensuring high quality of our steel buildings, but by serving our customers in a way that supports our country's economy as well.
This recognition couldn't have happened without our tremendous employees and without the support of you, our customers. Thank you for your trust and confidence in us – you are our "Champions of Business"!
Check out our Champions of Business profile here. And as always, call us at any time with questions or to discuss your next project.
For more information about metal building kits contact us, or start designing your building with our online 3D Building Designer Tool by clicking the image below.
Let's face it. No matter what form your building takes–whether it's a simple backyard shed or a spacious machine shop–paying for it will require some planning. If you're attracted to the value of a high-quality steel building, but worry that you'll have to pay a hefty premium for it, we have some good news!
Customers frequently discover that working with a Worldwide Steel Building Kit is substantially more budget-friendly than they thought. Here are a few reasons why:
Lower Installation Costs
This is perhaps the biggest advantage of our do-it-yourself building solutions. Most quality steel buildings are specialty projects constructed on-site, using hired labor and heavy equipment that can rapidly grow your total cost by several thousand dollars. Many do-it-yourselfers are intimidated by the prospect of erecting a steel building, but our easy-to-assemble steel building kits make the process so simple that any property owner with access to these tools can do it.
Related Read: How to Save Money With DIY Building Kits From Worldwide Steel
Because our parts are prefabricated in easy-to-handle units that are simply bolted together on-site, no welding is necessary, and the only heavy equipment you might need is a power lift–which, thanks to the ease of assembly, you'll only have to rent for a day or two instead of weeks at a time. So the money you save on labor and equipment can go toward what really matters: higher quality building materials and getting the building you've always dreamed of.
Built to Last with No Hidden Maintenance
Many property owners fail to consider the maintenance costs that will sneak up on them over the life of your average building, and that's a big mistake. What many forget is that wood buildings require continual monitoring and periodic treatment for wood-destroying insects, moisture penetration, and basic rot and decay.
Composite roofing requires replacement every ten years, and paint jobs fade even sooner. Worse, an inadvertent lapse in maintenance or an undetected infestation of termites can lead to structural problems, requiring costly major repairs.
By contrast, our steel buildings are impervious to water, require no treatment for insects, and come with pre-painted sheet metal boasting a 40-year warranty–and that's on top of our industry-leading 50-year structural warranty on all prefabricated trusses. Your return on investment (ROI) is substantially higher with steel because you'll enjoy a much longer use of your building, and the premium you pay for superior materials will likely be more than offset by the amount you save in long-term maintenance.
Related Read: Why Tornado Alley Chooses Worldwide Steel Buildings
Special Financing Options
Our customers are shrewd bargain-hunters, and we respect that. That's why we keep our prices competitive and regularly offer special pricing deals and discounts that can help you kick-start a project at an even better value. We're also proud to offer affordable in-house financing with low fixed rates for well-qualified customers. Our partnership with Lightstream means you may be eligible to borrow as little as $5,000 or as much as $100,000 through a paperless application process, with no fees, no down payment, and no collateral requirements.
If you're ready to invest in a high-quality, made-for-a-lifetime steel building, then now is the time to act.
Give us a call
at (800) 825-0316 for help selecting a package that is just right for your budget. Our guys will gladly lead you toward making your dream a reality–for less than you might think.
Superior Quality Metal Buildings for ANY Application
With well over a quarter of a century experience as metal building manufacturers, Worldwide Steel Buildings is among the best steel building manufacturers in the industry. Since our design and manufacturing facility opened its doors in 1983, Worldwide Steel Buildings has continued as the industry's largest open-web truss manufacturing facility in existence. Our extensive design and manufacturing experience guarantees your pre manufactured steel building is the most durable, state of the art metal building money can buy.
When you choose Worldwide Steel Buildings as your steel building manufacturer, you will know you are making a sound economic decision by completely eliminating the "middle man"; we are the manufacturer, from design to implementation, we do it all! Worldwide Steel Building kits are manufactured from only the highest quality American steel. Each Worldwide Steel Buildings metal building is designed with the area where it will be erected in mind, ensuring the elements like wind load and snow fall are taken into consideration.
Buy directly from the Worldwide Steel Buildings, your metal building manufacturer and realize a huge savings in both time and money. Each pre manufactured metal building comes complete with all the components and concise, easy to understand plans so you will get your building built and in use easily and in a very timely manner.
With Worldwide Steel Buildings, You Have Options
Worldwide Steel Buildings, your pre manufactured steel building provider offers a huge selection of structural building systems ensuring you will get exactly what you need; every time! All our DIY (Do It Yourself) steel building kits include our versatile open web truss design in all steel or hybrid. Worldwide Steel Buildings also offers solid web rigid frame, tapered rigid frame, and straight column rigid frames. Each of these steel building options is available in standard or long bay options, custom designed to fit any dimensions. Worldwide Steel Buildings provides DIY kits for all applications, including but not limited to:
Garages and Workshops
Residential Steel Buildings
Aircraft Hangars
Churches and Recreation Buildings
Mini Storage Facilities
Agricultural Buildings
So Much More
Contact Worldwide Steel Buildings today at (800) 825-0316 to let us help you design the perfect building for your application.
Strength, durability, and ease-of-construction are the WWSB advantage
WorldWide Steel Buildings is an innovator of do-it-yourself steel building construction systems, and one of the leading manufacturer of pre-engineered steel buildings in the U.S.
Since 1983, we have provided industrial and residential customers alike with quality, American-made steel structures adaptable to any use as a much stronger and more cost-effective alternative to traditional construction.
Our trusses are precision welded, rust-proofed, and undergo a rigorous inspection process to ensure the highest quality in our structures.
Our process
Our purlins and girts are formed from rolls of galvanized American-made steel. Our heavy duty open-web trusses are built on custom jigs manufactured exclusively for our process.  All of our framing is MIG welded and double-dipped in rust-proof coating.
The steel advantage
Steel is an alloy made by a varying tempered combination of two elements: iron and carbon.  This process gives steel its immense strength and durability.
Preferred ten-to-one over wood and brick construction, steel has a higher strength-to-weight ratio, capable of supporting a building of the same size as wood with less material and less need for interior support structures.  This reduces cost and labor significantly.  And because of its durability, steel buildings cost less to maintain, insure and can stand up to extreme environmental conditions far better than traditional construction.
"Hurricane Ike pounded our partially built arena with 80–85 mph winds from the East, North and Westerly directions for several hours," write Christine & Steve Seat of Almosta Ranch in Houston, TX.  "Needless to say, the main structure survived the storm without damage."
The application of the steel building construction is virtually limitless.  From agricultural buildings to aircraft hangars, horse arenas to churches and recreation centers, commercial buildings, garages and workshops, industrial buildings, storage units, and residential buildings, the possibilities are endless.
The WorldWide Steel Building difference
WorldWide Steel Buildings manufactures pre-engineered steel building kits that can be safely and reliably put together by the handy do-it-yourselfer.
Our trusses are pre-punched to be easily bolted together.  The purlin and girt clips are factory welded and attach with self-drilling screws for ease of construction.  The sheet metal attaches with self-drilling screws that are flanged and self-sealing to prevent leaks.
To find out more about our process and explore all of the options available to you in the design of your commercial or residential building project, surf the links in the menu on the left, then request a free planning kit, or call (800) 825-0316 to speak to one of our knowledgeable steel building professionals today.