Worldwide Blog
Posted on October 2, 2019
You don't need to specialize in steel building construction to put up a Worldwide Steel Building. Just ask Scott Tallman, president of Tallman Construction, a general contractor in Idaho Falls, Idaho. "It's a user-friendly solution that doesn't require any special equipment or tools," he says. "My guys had no problem putting it together. Everything went very smoothly from start to finish."
Scott designed and constructed two steel buildings for Sun Rain, a client of his that grows and distributes a variety of potatoes. One of the structures required a constant temperature between 48 and 52 degrees, meaning a poly-foam insulation had to be applied to the entire building. Fortunately, Scott was able to do so thanks to the versatility of the Worldwide Steel product.
Beyond versatility, Scott says he chose Worldwide Steel over other manufacturers because it offered both better pricing and better service. It's why he'd use Worldwide Steel in the future along with recommending them to others. "We definitely had a great experience with the product and the staff. I'd work with them again in a heartbeat."
Scott Tallman is one of many satisfied Worldwide Steel Buildings customers. Learn what others have to say by visiting worldwidesteelbuildings.com. Then try out the free 3D Design Tool to map out plans for your steel building.

Posted on September 3, 2019
If David Olsen had a question, Worldwide Steel Buildings had an answer. It's why the do-it-yourselfer was able to successfully assemble his own multi-purpose steel building on his property in Boulder, Colorado. "Whenever I needed help during construction, Worldwide Steel was always there for me," says Olsen.
Olsen required assistance early on after his local municipal building department asked him to modify foundation plans. He reached out to his Worldwide Steel customer service representative who quickly provided adjustments to meet requirements. Later on, Olsen experienced some minor material snafus that were easily remedied by Worldwide Steel.
"Their responsiveness made a world of a difference," notes Olsen. "I was able to count on them throughout the project."
Olsen leveraged one of Worldwide Steel's predesigned packages and utilizes his 2,000-square-foot facility as a garage, shop and storage facility. He wouldn't hesitate to recommend Worldwide Steel to others. "They offer a hard-to-beat combination of product and service. I'm really happy about how my building turned out."

Posted on July 29, 2019
Get a clearer picture of the steel building in your future with a little help from the satisfied customers of Worldwide Steel Buildings. Now available on our website are design examples created by our customers (with our popular 3D Building Design Tool) that served as the springboard for the steel building of their dreams.
You'll feel inspired to take your design to the next level by viewing the plans of others whether you're thinking of building a garage, workshop, house, barndominium or commercial building. Worldwide Steel Buildings hopes to help people get over the design hump by simply sharing the work of others.
"Sometimes it just takes a little spark to the imagination to complete a building design," says Jeff Snell, president and CEO of Worldwide Steel Buildings. "And what's great about our 3D design tool is that it provides a clear vision of the buildings that's swirling inside the heads of our customers."
So take a look-see at the other building designs today to get inspired for tomorrow. Go to https://www.worldwidesteelbuildings.com/design-examples/.

Posted on April 26, 2019
With a 50-year warranty from Worldwide Steel Buildings, Adam Fike has a feeling that the two structures on his 10-acre property will be around for a very long time to come.
"I anticipate that both buildings will outlive me," says Adam, who resides on 10 acres in Spring Hill, KS. "I wanted a product that would last a lifetime so I decided that steel was the best way to go. I'm glad I don't have to worry about wood rot and other costly maintenance issues."
Adam also liked the idea of lower upfront costs. Early on he learned he could save a bunch of money by choosing steel over wood for his two buildings – one of which is a 24' x 30' structure that he utilizes to operate his residential painting business. The shop provides materials storage in addition to space for spraying out cabinets and doors.
His other building is 40' x 40' and is used for a light farming operation. It serves as home to cows, goats and horses as well as storage for hay and equipment. For both buildings, Adam chose to go with off-the-shelf packages provided by Worldwide Steel, which still provided room for some customization.
"I was really amazed at how easily everything came together," claims Adam. "The building components are manufactured like well designed puzzle pieces." He was also impressed with the customer service at Worldwide Steel from start to finish. "Everyone I worked with was really knowledgeable and respectful. It was just a great experience overall."

Posted on April 5, 2019
She huffed and puffed … but big, bad Mother Nature still couldn't blow down the stout and sturdy Worldwide Steel Building amidst a windstorm in Texas.
"We had ferocious 80 mile per hour winds come whistling through in March, but our steel warehouse stood up to the storm without a problem," explains Garry Jones of Dumas, Texas, a town of 15,000 tucked away near the far north border of the Lone Star state. "It's a strong, robust structure, which is one of the reasons why we decided to go with Worldwide Steel. We need a lot more durability in this part of the country."
Affordability also played a major role in Garry's decision to go with steel for his nearly 4,000-square-foot building, which houses pool tables, Touch Tunes jukeboxes, electronic dartboards and other amusement games for his business, JJ's Vending. Other building materials were far more costly and would have forced him to build a much smaller – and less durable – warehouse.
Steel rose to the top, along with Worldwide Steel Buildings, who Lisa Jones (Garry's wife) discovered online while researching potential companies to design and manufacture. According to the Jones's, they were pleased with the entire Worldwide Steel process from start to finish. "I'd highly recommend them to anyone," notes Garry, who along with a couple friends assembled his warehouse. "We were always in the know throughout the project thanks to the staff … just a pleasure to work with the whole time."
Need an affordable, durable building like the Jones's for your personal or business use? Then, get started with the Worldwide Steel Design Tool today. Exclusively at WorldwideSteelBuildings.com.

Posted on March 14, 2019
A little knowledge can go a long way when weighing the pros and cons of a steel building, according to Mark Bockelman, owner of Bockelman's Landscaping and Garden Center in Fowler, Ohio.
"Unfortunately, some people are afraid of steel because they don't know enough about it," explains Mark. "But steel is really an excellent option for buildings because it's durable, versatile and affordable. I recommend it – and Worldwide Steel Buildings – all the time."
Bockelman knows firsthand the value of steel after deciding to use galvanized steel framing (manufactured by Worldwide Steel Buildings) for the greenhouse he and his teenage daughter, Leah, assembled in 2017. The 24' x 40' structure, which features corrugated walls and partially corrugated roofing, still looks new today despite the naturally wet environment.
Bockelman credits the custom galvanization he requested from Worldwide Steel Buildings for protecting his greenhouse from rusting and pitting. And that's important to him, not only from a long-term structural standpoint but also in regard to business growth. As a retailer, he needs his greenhouse to look good on all levels.
"Offering a clean and pristine shopping environment is meaningful to our customers," says Bockelman, who's been in business for over 30 years. "It's one of the keys to our success."
Get started on designing a steel building for your business or personal property by utilizing the free 3D Building Designer Tool at WorldwideSteelBuildings.com.

Posted on February 28, 2019
Bob Singer and his wife are really happy about their decision to relocate from Arizona to Hamilton, Missouri. In addition to the utter enjoyment of being near family – especially their eight grandchildren – the Singers are also very pleased with their choice of a steel house and garage manufactured by Worldwide Steel Buildings.
"Going with Worldwide Steel allowed us to build the home we wanted and remain in our price range," tells Bob, who's now in the process of building out the interior of his home. "The 3-D design tool on the website made it easy for us to take our ideas and transform them into reality."
Today, that reality stands as a sturdy 48' x 72' steel building. It offers a 1,824 square-foot, three-car garage featuring 16' walls that lodges the Singers' full-size motor home, which serves as temporary living quarters while finishing off the home interior.
Speaking of the 1,632 square-foot home, it provides 12' walls along with plenty of living space that includes: two bedrooms, two bathrooms, living room, dining room, den, kitchen, pantry and utility room. And, according to Bob, he plans to add second-floor living space down the road.
"My sister liked our steel home so much that she built one down in Arizona," notes Bob. "Not surprisingly, she decided to go with Worldwide Steel Buildings, too. Their product and customer service set them apart from other manufacturers."
To start tinkering around with a steel building of your own, try out the free 3D Building Designer Tool at WorldwideSteelBuildings.com.

Posted on January 31, 2019
What's in a name?
Just about everything, especially when it comes to Worldwide Steel Buildings.
We chose that name because of the confidence we have in our product to withstand any climate anywhere – including Juneau, Alaska, where we manufactured an oversized steel garage for Tom and Pamela Chapin.
"We live in a remote community that is only accessible by boat or plane and 900 miles away from major shipping ports," says Tom. "In our rainforest we receive approximately 120 inches of rain yearly and annual snowfall of up to 200 inches."
Although those conditions may intimidate some steel building manufacturers, they didn't deter the Worldwide Steel Buildings team and lead consultant John Turner. Able to overcome the 3,000-mile distance barrier via phone and email communication, John, along with Tom and Pamela, successfully mapped out detailed blueprints, manufacturing specifications and logistics for the oversized garage.
"As a result of John and many others at Worldwide Steel Buildings, my garage has become a reality," notes Tom. "We look back on this project and experience in a very positive light."
Learn more about Worldwide Steel Buildings – and test out our new 3D Building Designer software – at WorldwideSteelBuildings.com.

Posted on October 8, 2018
We take pride in the products we manufacture, and how they help our customers meet not only a practical need for space, but also achieve their goals for their business, family, or lifestyle. That's why we love hearing from customers like Russ and Ranae about how they're using their customizable steel building:
"My wife and I have had a great time building our shop. I am attaching a few pictures of the shop (as you can see, we still have some inside work to do). We have done all of the work ourselves, except for the cement footings and floor. Not too bad for a couple of senior citizens!
Thank you for all your support and encouragement. If anybody would like to see one of your buildings, we would be glad to show them ours."

Russ & Ranae L.
Monroe, UT
Click below to see and read more.
(more…)
Thank you, Russ and Ranae, for sharing your story, and for choosing Worldwide Steel Buildings for your project. Please let us know if we can be of assistance at any time. Enjoy your new shop!
How are you using YOUR Worldwide Steel Building? Let us know – we'd love to hear from you!
Posted on August 20, 2018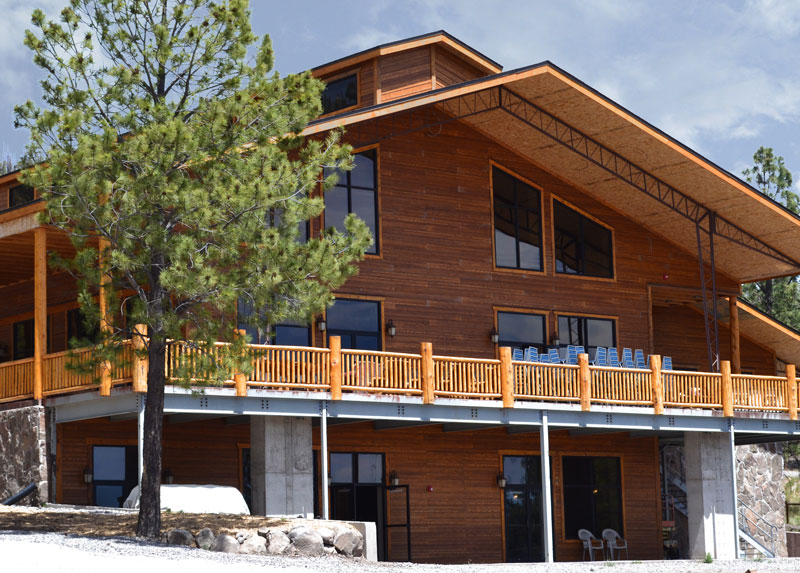 We love the look of our steel buildings, and we want to make sure our customers do, too. Our sheet metal siding comes in a wide range of colors which you can "try before you buy" using our 3-D Building Design Tool.
But a steel building doesn't have to look like a steel building if you don't want it to. Our customers have the benefit and flexibility of using a range of other exterior options if sheet metal isn't your preference.
Aesthetics that match your vision
This flexibility can be particularly important when trying to match a look that may already exist on your property – or matching a new steel house to the surrounding neighborhood.
Worldwide Steel Buildings' team has worked with many of our customers to design steel structures using a range of exterior finishes, including brick, stone, stucco, and even wood.
Strength you can depend on
Whatever exterior finishes you choose, you still get the strength and durability of our steel truss framing, backed by our unmatched 50-year guarantee. You also get the other benefits of our steel building kits, including full customization, clear interior spans giving you flexibility of interior layout, affordability, and ease of assembly.
Need some inspiration to get started on your project? Look at photos on the "Steel Buildings" tab, check out our 3-D Design Tool, or talk with a Building Consultant specialist to create a structure with the perfect look for your needs.
---
For more information about metal building kits contact us, or start designing your building with our online 3D Building Designer Tool by clicking the image below.