Worldwide Blog
Posted on January 31, 2019
What's in a name?
Just about everything, especially when it comes to Worldwide Steel Buildings.
We chose that name because of the confidence we have in our product to withstand any climate anywhere – including Juneau, Alaska, where we manufactured an oversized steel garage for Tom and Pamela Chapin.
"We live in a remote community that is only accessible by boat or plane and 900 miles away from major shipping ports," says Tom. "In our rainforest we receive approximately 120 inches of rain yearly and annual snowfall of up to 200 inches."
Although those conditions may intimidate some steel building manufacturers, they didn't deter the Worldwide Steel Buildings team and lead consultant John Turner. Able to overcome the 3,000-mile distance barrier via phone and email communication, John, along with Tom and Pamela, successfully mapped out detailed blueprints, manufacturing specifications and logistics for the oversized garage.
"As a result of John and many others at Worldwide Steel Buildings, my garage has become a reality," notes Tom. "We look back on this project and experience in a very positive light."
Learn more about Worldwide Steel Buildings – and test out our new 3D Building Designer software – at WorldwideSteelBuildings.com.
Posted on October 8, 2018
We take pride in the products we manufacture, and how they help our customers meet not only a practical need for space, but also achieve their goals for their business, family, or lifestyle. That's why we love hearing from customers like Russ and Ranae about how they're using their customizable steel building:
"My wife and I have had a great time building our shop. I am attaching a few pictures of the shop (as you can see, we still have some inside work to do). We have done all of the work ourselves, except for the cement footings and floor. Not too bad for a couple of senior citizens!
Thank you for all your support and encouragement. If anybody would like to see one of your buildings, we would be glad to show them ours."

Russ & Ranae L.
Monroe, UT
Click below to see and read more.
(more…)
Thank you, Russ and Ranae, for sharing your story, and for choosing Worldwide Steel Buildings for your project. Please let us know if we can be of assistance at any time. Enjoy your new shop!
How are you using YOUR Worldwide Steel Building? Let us know – we'd love to hear from you!
Posted on August 20, 2018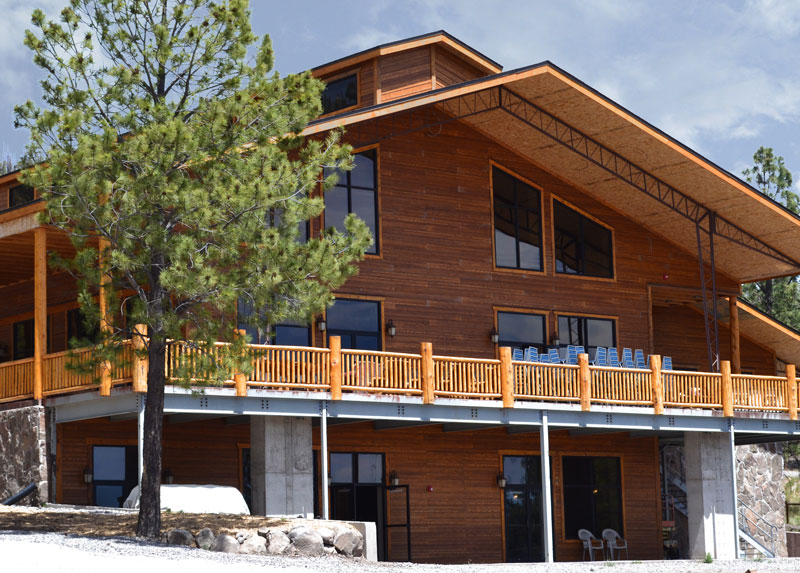 We love the look of our steel buildings, and we want to make sure our customers do, too. Our sheet metal siding comes in a wide range of colors which you can "try before you buy" using our 3-D Building Design Tool.
But a steel building doesn't have to look like a steel building if you don't want it to. Our customers have the benefit and flexibility of using a range of other exterior options if sheet metal isn't your preference.
Aesthetics that match your vision
This flexibility can be particularly important when trying to match a look that may already exist on your property – or matching a new steel house to the surrounding neighborhood.
Worldwide Steel Buildings' team has worked with many of our customers to design steel structures using a range of exterior finishes, including brick, stone, stucco, and even wood.
Strength you can depend on
Whatever exterior finishes you choose, you still get the strength and durability of our steel truss framing, backed by our unmatched 50-year guarantee. You also get the other benefits of our steel building kits, including full customization, clear interior spans giving you flexibility of interior layout, affordability, and ease of assembly.
Need some inspiration to get started on your project? Look at photos on the "Steel Buildings" tab, check out our 3-D Design Tool, or talk with a Building Consultant specialist to create a structure with the perfect look for your needs.
---
For more information about metal building kits contact us, or start designing your building with our online 3D Building Designer Tool by clicking the image below.
Posted on July 31, 2018
Whether you like to hit the road in an RV, go off-road on a ATVs or dirt bike, or take to the water in your boat or personal watercraft, summer is a great time to enjoy the outdoors. All these vehicles are an investment in summer fun for you and your family – and steel buildings are ideal as garages to store, maintain and protect your investment.
Customize the perfect size
Our steel building kits are 100 percent customizable to accommodate vehicles of all shapes and sizes, and designed to store one vehicle or many. With clear spans up to 225 feet across and customizable ceiling heights and roof pitches, there's virtually no vehicle our steel garages can't hold. We can help you design the perfect building for you, from a small garage for your personal fishing boat, or a large-scale structure for your commercial fishing business.
Built to last
You already know steel structures unmatched strength and durability. But steel also offers great resistance to wear and tear from the elements compared to other building materials like wood. We manufacture all of our trusses ourselves using American-made steel, dip them in a rust-proof coating and inspected to ensure the highest quality. And, our sheet metal is designed to maintain its appearance regardless of weather conditions. So let us know what elements your garage needs to withstand – our kits can be designed for any snow or wind load in the U.S., with truss framing backed by our 50-year warrant.
Flexible financing
We understand you need a shelter for your summer vehicle now, not later. Because we build every kit at our own factory, you avoid the "middle man" mark-up, making our steel building kits an affordable, high-quality option. However, if it makes more sense to finance your garage kit, we are here to help. Our Building Consultants can not only guide you through the design process, but can discuss financing options available and arrange the one that works best for you.
Check out examples on the "Steel Buildings" tab, and give us a call to learn more. A Worldwide Steel Building will make sure your summer vehicles have it made in the shade.
---
Let us know how we can help keep your vehicles shaded and secure! For more information about metal building kits contact us, or start designing your building with our online 3D Building Designer Tool by clicking the image below.
Posted on July 17, 2018
Worldwide Steel Buildings has designed and manufactured Hangars for customers all across the US and in several other countries. As an AOPA sponsor we understand protecting your investment is at the top of your list and are proud to say we have never lost a hangar due to weather. With several different styles available please stop by our Booth #4080 at The Spirit of Aviation EAA AirVenture in Oshkosh Wisconsin July 23-29, 2018 to discuss your project.
Posted on July 13, 2018
Summer is officially here – but we don't need to tell you that. Cities across the country have been experiencing record heat and high temperatures, and fall is still months away. It's hot out there!
Fortunately, air conditioning is available pretty much everywhere, and that certainly includes steel buildings. Each of our building kits is completely customizable to accommodate the specific climate control needs of your building usage. Keep in mind it will get cold again and you want to be prepared.
Flexibility to incorporate building systems
Whether you want to air condition the office space within a hybrid warehouse/office structure, or provide climate control for your entire garage, workshop, or single-family steel home, you can plan and layout your own HVAC (as well as power and other systems) for part or all of your building kit. Need a little help? Our experienced customer service team can work with you to understand your HVAC and systems needs and customize your building kit to achieve them.
Design elements to help you keep your cool
While HVAC is the primary means of keeping things cool in the warm weather, some of the most basic design elements can also be used to help manage climate and air circulation in your steel building:
Doorways / openings – with clear span buildings 24-225 feet, our steel building kits allow for large garage-style door openings on multiple sides of the building to provide cross-ventilation.
Windows – another obvious, but important one: our clear span designs also allow you to place windows to maximize (or minimize) natural light and ventilation based on your specific building site.
Ceilings / roofs – the open design of our building kits means you can customize the ceiling height and roof pitch to allow heat to rise to the top of your building, vent out of your building and away from your belongings, equipment – and from you.
Let us know how we can help – and stay cool! For more information about metal building kits contact us, or start designing your building with our online 3D Building Designer Tool by clicking the image below.
Posted on July 4, 2018
The Fourth of July is a great time to gather with family and friends and celebrate the founding of our country. For us, it's also a time to celebrate our customers' confidence in our products. We know that when you buy a Worldwide Steel Building kit, it's an investment to help you achieve a goal. Whether it's starting a small business, expanding to meet the needs of your growing company, non-profit, or community, or creating a space for your family to enjoy, thank you for your trust in working with us. We're proud to be a small part of helping you build your American dream.
Have a safe and happy Independence Day!
Posted on June 20, 2018
If you've owned a steel building in the past, or even if you've just been researching building options, you probably already know some of the benefits of steel: strength, durability, value.
But did you know steel is the #1 most recycled material in the world? According to the Steel Recycling Institute, between 60 and 80 million tons of scrap steel are recycled every year by North American steel mills into new steel products and components. In fact, scrap steel is an ingredient in producing new steel.
Our building kits at Worldwide Steel Buildings are made of approximately 94 percent recycled steel, all of it sourced from American steel mills. Using recycled steel gives our customers all the great features of steel – lighter yet stronger than other building materials; resistance to all types of weather; flexibility of design; and more – with the added benefits that come from recycling, including:
Performance. Because of steel's properties, it can be repeatedly recycled from one use or product to another without compromising structural integrity or performance.
Environmental impact. Recycling steel reduces the amount of resources consumed and emissions produced involved in creating steel products, reducing its impact on our environment and our planet.
Economy. Not having to produce new steel for every new product also reduces the cost of steel products to consumers – enhancing the already great value of this high-quality building material.
American manufactured. Worldwide is proud to use exclusively American steel, which means – because U.S. steel mills use largely recycled materials – that buying recycled steel is an important part of keeping money and jobs in our country and our communities.
(Source: Recycled Steel Institute)
Be sure to check out all the custom styles, finishes, and other options we offer, and give us a call to let us help you with your next (recycled) steel building project!
For more information about metal building kits contact us, or start designing your building with our online 3D Building Designer Tool by clicking the image below.
Posted on June 15, 2018
Our goal at Worldwide Steel Buildings is to provide our customers high-quality, affordable steel building kits customized to their unique needs or purpose. We love to share our customers' stories and the great things they are doing with our products:
Wings of Faith: "Real People Meeting Real Needs"
Wings of Faith Ministries provides ongoing support and donations to missionaries serving mainly Native American populations in California, Nevada, Arizona, New Mexico, as well as communities in Appalachian West Virginia. Their volunteer light aircraft pilots make more than 60 flights a year to bring food, clothing, medical supplies, and other aid to those who need it.
Several years ago, Wings of Faith purchased one of our steel building kits to house supplies and donations awaiting distribution to the communities they serve. Jim Yost, who coordinates logistics and deliveries for Wings of Faith, shared these thoughts and photos:
"Our building from Worldwide has proved absolutely invaluable in serving the very poor of the Native American reservations of the Four Corners area. I cannot imagine doing what we do without it. In May 2018, we moved over 50,000 pounds of supplies through this building."
Thanks to Jim for sharing your story, and for the great work your organization is doing to help others! To learn more about Wings of Faith, visit flywithwings.org.
How are you using YOUR Worldwide Steel Building? Let us know – we'd love to hear from you!
Posted on June 13, 2018
Summer is here – and wedding season has begun. June, August, September, and October are the most popular months for weddings, as well as other events such as family reunions, outdoor concerts or community gatherings.
Our high-quality steel building kits are fully customizable and an affordable way to create an event space tailored to your needs. Whether you own catering or special event business and want to offer customers a dedicated wedding/event space; your church wants to add or expand a reception hall, or you're a proud parent wanting to create a custom space for your daughter's (or son's) dream wedding, we are here to help.
Wide Open Spaces
Because they don't need columns, our steel structures offer clear spans from 24 feet to 225 feet, giving you clear floor spans and usable space all the way up to the peak.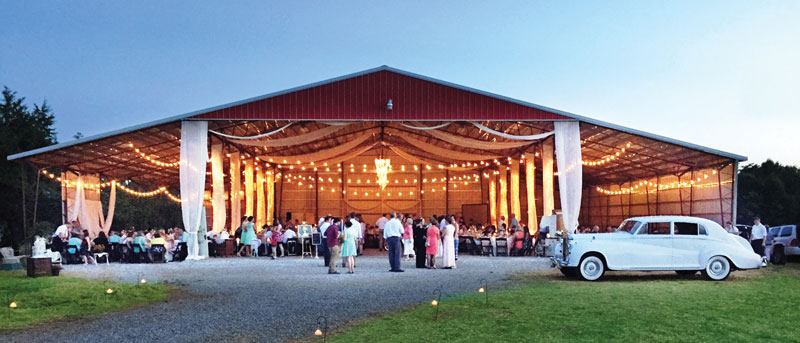 Durable and Economical
Steel building kits are a convenient and quicker alternative than traditional construction – and generally much more affordable. The value of our custom metal buildings, however, comes not just from the budget but from their quality, durability, and ease of assembly. We manufacture our own trusses, which are welded in precision jigs for accuracy, double dipped in a rust-proof coating, and inspected to ensure your structure will stand the test of time.
Finishing Touches for a Perfect Space
Both our interiors and exteriors are fully customizable with a variety of styles, colors, and finishes to ensure your event space is not only functional, but attractive. Our customer service team will work closely with you to design your space inside and out, from \ electrical, water and HVAC, to layout, interior walls, overhangs or porches, and finishes ranging from wood to stone to stucco. Want a rustic country feel? Our Gambrel barn specialists can help you create a classic look and charm to your space.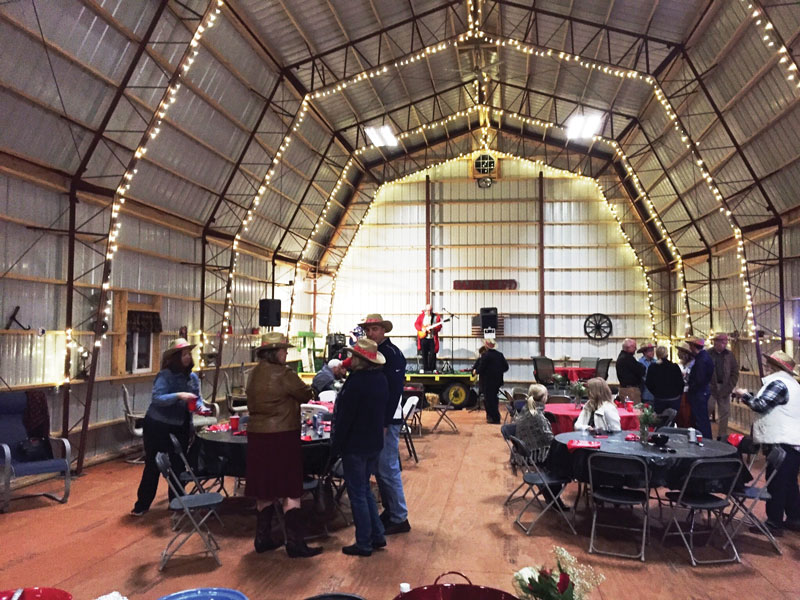 For more information about metal building kits contact us, or start designing your building with our online 3D Building Designer Tool by clicking the image below.