Worldwide Blog
Posted on August 23, 2017
You have worked hard to get the tools, equipment, and vehicles you need for work and play. They only last as long as you protect them, and steel buildings can be built for the perfect protection. The durability steel offers lasts giving you piece of mind knowing you will get the years out of your prized possessions.
Affordability
When it comes to spending your hard-earned money, it is important to get the best value for your dollar. Worldwide has been designing and suppling steel and metal building kits since 1983 and understands what customers need and know you want security in making the right choice the first time. Our kits are designed for the DIY person so you can save the cost of a contractor. If you want to use a contractor, many will give a great rate because the ease of how a Worldwide building assemblies. The kit includes everything you need with the exception of anchor bolts that you can grab at your local material supply outlet. Not having to worry about what other parts you will need to complete your building makes Worldwide the top choice for your garage, shop, hangar or any other building you want to build. Financing is also available through one of our partners (LightStream).
Durability
Steel is not only a green product, but offers so many advantages in terms of durability. Steel will not absorb moisture, rot or get infested with insects keeping the areas you need dry and safe from damage. Buildings are customized for your environment (snow and wind loads) to give excellent protection in harsh weather conditions. Even though a steel building can be constructed 3-5 times faster than other standard buildings, the longevity isn't sacrificed. Our metal buildings come with a 50-year structural guarantee so you can feel confident your steel garage or workshop isn't going anywhere and neither are its contents.
Ease
Our kits make steel garage construction easier than ever. Most of the work has been done in our manufacturing centers so you spend less time on the actual building site. All trusses are built on jigs and are pre-punched, just in need of a little assembly. Our easy-to-follow assembly guide lays out every part of the process making the whole operation as seamless as possible. Every piece is included in the kits so once it arrives on site in one shipment, you can begin work immediately for the steel garage, shop or other use you want. All of our garages are custom built for your exact needs in mind. It can be as large or small as needed for your equipment with the features built in. If you need to expand, the live trusses make that process a breeze at any time in the future.
The perfect garage for your toys and equipment doesn't have to be a long-term goal away. Steel lends itself as an affordable option. With over 100 years of building experience, you can rely on our Worldwide to help you every step of the way. From the first model built with our online 3D Designer to final screw placed, our customer service will be there. See just how easy and affordable your new steel garage or workshop can truly be.
For more information about metal building kits contact us, or start designing your building with our online 3D Building Designer Tool by clicking the image below.
Posted on August 16, 2017
When investing in your agricultural needs, there is no better option than customizing your own steel building. The options are limitless and Worldwide can help you design the building that works for you and your farm. You want a building that works as hard as you do and that is why we offer a full range of DIY all steel and hybrid buildings to fit your unique situation.
Options
We have all seen them. Driving down the road, there rotted and ready to fall down wood barn no longer good for housing anything but mice, racoons and dust. That is something you won't see with our steel framed barns. With the fifty-year structural warranty, you can rest assured that your barnyard friends, equipment or hay are safe in the comforts of their steel framed home. Whether you are housing cows, poultry, horses, or any other livestock, we have got you covered.
Safe from the weather and damage done outside, hay supplies are kept dry and safe in the strongest metal building available. Molding and loss of hay are reduced by providing dry, ventilated large areas customized for your individual storage needs. Our buildings are also great at keeping pests out due to the impenetrable metal saving you the hassles that come with infestations.
In addition to barns and hay storage, our buildings serve as an excellent option for housing your relied-on machinery. Keeping them safely indoors will increase their long-term performance while maintaining their value. Your equipment takes care of you so you want to be sure and take care of it. We provide the perfect, low maintenance buildings to do that with customized sizing to keep all of your equipment. Large doors are not a problem along with self-supporting overhangs for extra storage area. Thinking you may need to add on later? Steel buildings can easily be expanded in the event your fleet grows bigger.
Anything you can think of for agriculture, we can do it! Have a special project in mind? You can call one of our consultants today and receive a free quote.
Longevity and Accessibility
Our buildings are built to last throughout the years and seasons. You know as well as we do that you can't fight nature. We can customize your building to fit any climate to ensure you are getting the right structure for your area. The materials we use to build also give us the confidence to guarantee all our products so you know you are getting the right value for your money. With a 50-year structural warranty, you can trust these buildings are made to last so your investment can keep producing for you in the years to come. Are you a devout DIYer? Our kits are designed for those of you in mind. The ease of installation can cut huge costs leaving you with the deep satisfaction of looking out onto your latest completed project. If that isn't your desire, a local contractor can help with the job. Either way, with your idea and our design you will have just the right steel building to meet your needs.
For more information about metal building kits contact us, or start designing your building with our online 3D Building Designer Tool by clicking the image below.
Posted on July 21, 2017
Cars, RVs, trailers, tools, and other valuables require a large storage space and plenty of protection. What better way to protect these large, often expensive belongings than in a steel garage made custom to fit your needs?
You could build a garage from a variety of other materials, but it won't stand up to the quality that comes with a steel garage from Worldwide Steel Buildings. Not only does steel provide a durable space to store your possessions, it also takes much less time to assemble than traditional building materials and is less expensive.
Stands the Test of Time
These steel garages are made to last. By using steel instead of wood to build, Worldwide garages can face the toughest of elements from snow and wind to pests. Steel garages are even fire resistant! This means your garage will still be standing and in great condition 20 years later. Worldwide even offers a 50-year structural warranty for further protection.
Not only will the materials last in the years to come, but so will the design. Should you require additional space in the future, you can easily add on and expand your steel garage thanks to the live truss system used to build it. """"
Environmentally Friendly
Not only do steel garages hold strong against mother nature, they are also sustainable. Steel is one of the most recycled metals in the world and it is incredibly easy to repurpose. Combine that with its aforementioned longevity and you will have a durable garage guilt free made out of 94% recycled materials.
Steel Garages Made For You
Here's another reason a steel garage lasts for so long: you will never get tired of it! With extensive customization options. Want a loft for extra storage space, not a problem, want to brick the outside to match you house, you can do that with the Worldwide steel Building system. Worldwide is known as the most versatile building available.
Affordable and Accessible
Worldwide has a variety of financing options so you can get the garage of your dreams. Financing, however, is only a small part of a steel garage's accessibility. Since the steel garages require no heavy, expensive equipment, and are easy to assemble, the cost to construct them is much lower than that of a traditional building. In fact, assembly is so easy, you can do it yourself. Worldwide offers DIY kits with all materials included. This means you can cut labor costs and build your very own steel garage in no time.
Posted on July 10, 2017
Steel buildings are the perfect options for so many projects and while Worldwide does offer contractors able to build them for you, you may be asking for other options. Perhaps you don't want to worry about contractors. Or, maybe you just want to save some money. Whatever the reason, there is another option available to you.
For all the do-it-yourselfers in need of a strong, reliable structure, Worldwide Steel Buildings offers a selection of fully customizable building kits to satisfy both residential and commercial needs. They are easy to assemble and can save you a lot of money. When it comes to what you can build with these kits, the possibilities are endless.
Residential Solutions
Do you find yourself spending hours searching for your tools in a crowded and cluttered garage? Perhaps you have property and want to build a new home. Whatever the project if it's more space you need, then a DIY metal building kit is the answer. These kits can be used to construct spacious workshops, an indoor swimming pool, and even entire houses. Our customers have even used these kits to build storage for their trailers, guest houses, and "man caves". Yes even she sheds . All of Worldwide's options for customization make great projects like these possible.
Commercial Solutions
Our metal building kits go beyond providing space at home. These kits are also ideal for any business in need of a warehouse, office, hangar, and more.  By choosing steel over wood, and constructing your building yourself, your business will save a lot of money. Building material won't rot in the years to come. Unlike wooden structures, steel is wind, moisture, and pest resistant. In fact, Worldwide Steel Buildings offers a 50-year structural warranty on buildings!
Why Choose to DIY?
Beyond loving a good weekend project, the benefits of choosing to take the DIY route seem endless. To start, you'll be saving a lot of money on labor and the kits are very easy to assemble. Not to mention, the project will be completed on your own time and you won't have to wait around for a contractor. You will even save money insuring your building since steel is so much more reliable than other materials. Your steel building will be fully customized with options for features like self supporting overhangs, half truss or even a second floor mezzanine. Even roof designs and exteriors can be customized. From a simple a 30 x 40 garage or something extremely customized Worldwide can walk you through the complete process to get the DIY building kit you need and want. 
What's Included?
Everything! When you choose to go DIY, Everything to assemble your building is included, the only other thing you will need is to have you concrete piers or foundation poored and anchor bolts. It's all included from the framing for your windows and doors to the final trim, even foam closure to seal up the building. The only things you will need are simple common tools, ladders, a way to move the materials and left easy manageable trusses.
Financing Options
In addition to saving money just by purchasing a DIY kit instead of hiring contractors to do the job, Worldwide Steel Buildings also offers financing options. With no upfront fees or repayment penalties, these financing options can make your dream building a reality. Check them out HERE.
Posted on June 26, 2017
A metal building is a smart and economical way to protect many of your valuables and increase your property's value. Whether you are a small business looking for additional storage space, or an individual seeking to build that dream workshop or garage, a metal building can accommodate anything from an office, warehouse or the space to store all those important items you want to protect. Need a new mancave? How about a place to store extra vehicles or RV? A metal building can do all of that and more.
Many Options to Enhance Your Life
Steel buildings are far more advanced than you may think. Prefab steel buildings have windows, doors and stylish designs customized to your needs, so this makes them ideal for a home office. Instead of taking up home living space or having to rent an office, a prefab steel building can easily be built on your property. This gives you plenty of room for a comfortable office for both you and your clients. Ranging from small sheds 12' wide to large clearspan buildings up to 100' wide, you will be able to fit yourself and your growing business. Each Worldwide building is easy to add on to for future expansion.
A workshop can be very practical. It doesn't matter if it's for wood working, a place to work on your cars, or just a hobby, having a workshop grants you the safe space and storage you need to work on your craft. Not only is this convenient, it's safe as well. With an entirely separate workshop you can safely store your project with your tools and any specialty items you use. Your workshop can be customized to match your home or be a stand alone with its own look.
Whether you're looking for a single car garage or a garage large enough to hold your car collection, a steel garage building goes up fast and easy with unmatched strength. With a prefab steel building you can easily customize your door placements and exterior look. A metal garage gives you the style and function you need and the strength to handle what mother nature throws at it. Build a steel framed garage and you will not only improve your property value, but also have peace of mind.
We all need that extra space in our home. What if you had the land to actually put an affordable guest house on your property? Do you have an elderly family member who needs a little more attention? What about a child who is old enough to need their own privacy? Are you avid entertainers and want a place your visitors can stay for the evening? A beautiful guest house can solve all of your problems.
Worldwide Steel Buildings Have You Covered
A Worldwide metal building is the perfect solution for any one or multiple car garage, storage shed, boat and even your home. With color choices and many accessory options available, you can create a unique addition to your home and gain peace of mind knowing your possessions are protected. We are the top choice for constructing a new metal workshop or garage building. When building with steel it will save you time on construction, money on high-priced contractors, energy costs and future maintenance fees as the steel lasts longer than any other building material! Worldwide offers the easiest DIY building kits available on the market.
50-Year Warranty & DIY Friendly
Worldwide Steel Buildings has manufactured steel buildings for over 30 years. We offer a 50-year warranty on our buildings. We design our steel building kits for DIYers and send thorough, easy to follow instructions for assembly. Our support team is also available to you from time of order until you put in the last bolt. If you're interested in making your next project with one of our steel building kits, click the 3D link to check out our 3D building designer tool to draft your building.
We pride ourselves on offering quality products at reasonable prices, along with our excellent customer service. Our skilled, professional staff will ensure your product is of the highest standards. At Worldwide Steel Buildings, we guarantee our customer satisfaction
Posted on June 13, 2017
I live in northern Kansas and I needed a building built. I had a 40-50 year old machine shed that had been converted into a pole barn on the property. The people we bought the property from had added a concrete floor. The building was an absolute piece of junk. It only had one garage door in it. It was rusted and dated. I looked into painting it and got several quotes, but the painting costs were outrageous. The cost to paint it was going to be $13,700 due to the rotting and the condition of the siding. The cost for the new building was $14,200.
Finding a Company  
I looked at pole barns and other steel buildings and read some of the testimonials. I called 8-9 different companies. To be honest, when I called to talk to some others, they transferred me around. I left messages places and never got responses. Many of them never bothered to even call back.
Choosing Worldwide Steel
When I reached Derek at Worldwide Steel, he was extremely easy to talk to, answered all of my questions, and gave me quotes. He sent me brochures, I looked at the quality and different things. It was pretty evident right from the beginning that he was customer service oriented. I felt very comfortable with Derek. He followed up several times and we talked over the course of maybe a month and a half before I figured out what I wanted for sure. He walked me through the process and the warranty was excellent.
The Storage Garage
I bought a 30×56 building because I already had the pre-existing concrete pad from the old barn. ​It's a garage – three full garage doors plus a toy door for bringing in the lawn mower, ranger, etc. I will be using it for equipment storage – a boat and two vehicles.
The Construction
I originally had a local contractor take down the old building and do some concrete work. The contractor gave me a ridiculously low price to build out new building as well. When I called Worldwide to talk with them about the contractor's plan, they were able to give me helpful tips and explain to me exactly what needs to be done as far as the construction of the new building. They also got me in touch with a contractor who could go through the process seamlessly.
Instead of trying to build it myself, I hired a contracting crew that was recommended by Worldwide Steel and is one of their number one contractors. I was extremely pleased with them. They came out and built it in five days. They worked with the insulation company and were very professional. They did a super job!
Changes along the Way
Worldwide Steel is extremely customer oriented. From day one, when I finally decided the size of my building, they sent me blueprints for the building based on what I had told them I was hoping to get from the building. I could email and call and was able to completely customize and revise the blueprints with the help of worldwide employees.
Communication Was Key to a Seamless Job
Anytime I had questions, anytime I would call, I never talked to anyone from Worldwide who wasn't overly helpful. From the littlest question to the receptionist, it didn't matter who I was talking to or what I was asking. I had no hiccups along the way. I added the insulation package per the salesman's suggestion and I have been extremely happy with it. The tiny issue that I ran into with the insulation company not sending enough insulation was immediately handled by Worldwide Steel and only postponed the whole process by half a day. The contractor didn't charge extra for the additional time since it
wasn't my fault. I've stayed in touch with our sales rep since then and have bragged continuously about how easy the process was and how seamlessly the project went.
Worldwide Steel's Customer Service Is Amazing
Worldwide will build you whatever you want. You give them what you want and you can either put it up yourself or hire one of their exceptional contractors to take care of the job for you. Derek has obviously never pressured us. I can't emphasize the customer service level enough.
My One Regret
I wish I could say more. We just love the building. The only thing that I regret was that we didn't include the mezzanine for additional storage. I would recommend that to anybody. Much better warranty than anything else and I was impressed from the very beginning.
If you're planning on building a garage, shed, large barn, or other structure, make sure to call Worldwide Steel first. We'll make it painless. Call and talk to one our helpful salespeople at (800) 825-0316 or ​contact us online​. We'll make sure your steel building is exactly what you wanted!
Posted on May 30, 2017
At Worldwide Steel Buildings, we are proud of our processes that make building a steel structure of any kind, anywhere, as painless and streamlined as possible. However, for one of our customers, timing, communication and follow through were of utmost importance. Here is his experience in his words:
A Challenging Location to Build a Steel Building
For most people, any undertaking of a construction project requires major consideration with regard to time money and frustration. Most would prefer to leave these challenges up to a general contractor and in the end, enjoy all the rewards and just write the check.
Our situation in Juneau has additional considerations. First, we live in a remote community 900 miles away from major shipping ports and access is by boat or plane only. Along with our geographical location, we live in a rainforest that receives approx. 120 inches of rain yearly and annual snowfall that can reach 200 inches. All of this provides for approximately 5 months of sensible building time in a calendar year, so a commitment to a timeline and follow through is essential.
Expectations Were Set Low Due to Previous Experiences
Having lived here for 30-plus years has demonstrated that even the best of companies and corporations from the lower forty eight have and are unable to overcome the many challenges that Juneau presents. And for them to oversell and under execute is more often the norm rather than the exception.
All that said, to maintain control of all factors, I decided to be my own general contractor, designer and banker. And with the help from my lovely assistant and wife Pamela, would construct and build our new garage. I knew what I wanted, where I wanted it and how much I could spend.
(Our 3D Building Designer tool helps you get started on the design of your steel building project!)
Worldwide Steel Was Great from the First Contact
After a year of research and planning, I sent out emails to over a dozen steel building providers. This email contained what I would consider a comprehensive list of details and overview of my project. For comparison's sake, I was patient and waited for many to respond. Perhaps comparison is the wrong term, for it was more of a contrast as replies came in.
Right from the start, Worldwide steel and more specifically, Mr. John Turner, immediately responded, providing information, answering questions, going over options and discussing details. The information Mr. Turner provided seemed to be more confirmed, confident and backed by firsthand knowledge and industry experience than did others who replied.
Communication Was Convenient
In short order, I knew exactly who he was, what he did and how he could help me with our project. Although there was a three hour time difference, Mr. Turner gave me multiple points of contact: email, phone numbers, etc., and I was encouraged to reach out at any time, after hours and on weekends. Other companies literally took months to return any reply, or deferred me to someone else, or someone would have someone else call me back, or sent me to an automated voicemail tree.
The Construction Process Was Seamless
After deciding to go with Worldwide Steel, John and the team at Worldwide put together a seamless chain of events and efforts from architects, engineers, logistics, shipping departments, finalizing plan details and setting up time schedules, as well as providing necessary plans, documentation, and certifications needed for the local permitting process.
At Worldwide I had one contact, John Turner with a direct line, who always answered the phone or called me back within minutes. But more importantly, John was always in line and up to date with the specifics of my project and its progress. I never felt as if my little garage got lost in the day-to-day shuffle of people being too busy to take the time.
My Steel Garage Is On Schedule and Under Budget
As a result of John and the many others at Worldwide, my little garage has become a reality. We are currently on schedule and under budget working on interior and final details. We are able to look back on this project and experience in a positive light (the wife and I are still talking to each other).
If an honest and truthful recommendation based on deeds, performance and proven abilities was ever deserved, well, my hat's off to Mr. John Turner and the team from Worldwide Steel. Good job!
See more steel buildings our customers have built on our testimonials page.
If you have a steel building in your future, trust the experienced team at Worldwide Steel Buildings. Call us at (800) 825-0316.
Posted on May 8, 2017
At Worldwide Steel Buildings, we're always amazed at the uses our customers come up with for our outstanding buildings. Check out this steel building kit that makes swimming a year-round activity. Here's what the customer had to say about it:
The steel structure is incredibly strong and stable. We can get up to 1.5 feet of snow in our area and the frame can easily handle that weight load. We also can get high winds here and the structure hasn't budged an inch.
It is also very unique in appearance: the frame inside of the pool space has a geometric look that blends well with the rounded style of our pool. Externally, the frame has a clean look and gives very nice 'curb appeal'. The steel frame design itself makes it very easy to safely mount any kind of accoutrements we'd like in the space (lights, wireless speakers, things like that).
This structure, combined with the polycarbonate siding we chose, gives us a pool space we can use all year. We can cool the building with our fan system during the summer and warm it with area heating in the winter.
We couldn't be happier with how the project turned out. We have a pool house we can use anytime, any season, and this is something that really adds value to the investment we made for our pool space. We can't wait to do some swimming when it's snowing outside!
Again, thanks for all of your help with this, it took quite the effort but really turned out sensational! Thanks, Rob H.
To see more metal buildings our customers have built, and what they have to say about them, visit our testimonials page.
If you'd like to learn more, give us a call at (800) 825-0316 or download our building planning kit and get started below:
Posted on April 28, 2017
If you're looking for a way to add storage space or additional living space to your current property, metal building kits make expanding and renovating easier than ever, with fully-developed kits that take the complication out of construction.
Every building kit is equipped with everything you need to bring your building to life, and you also get support from our own building specialists to ensure that you are finding a building that is the best fit for your property and your budget.
Metal Buildings That Are Easy to Build and Easy to Afford
Oftentimes, you need to invest in your structure before the money will follow, and that is why financing options are available to those who meet basic criteria. Whether you are in the agricultural industry or are looking to warehouse parts, it is important to your personal and corporate financial success that you have the space you need when you need it.
This is why Worldwide Steel Buildings is happy to offer financing services that can help you make your dreams a reality and allow you to build when you need it.
How to Qualify for Financing
Financing for a metal building kit is easy to get. There are no upfront fees, no prepayment penalties, and no appraisal required. Unlike with many other contracting agencies, equity is not required for metal building kit financing.
What Kind of Metal Building Kit Will You Finance?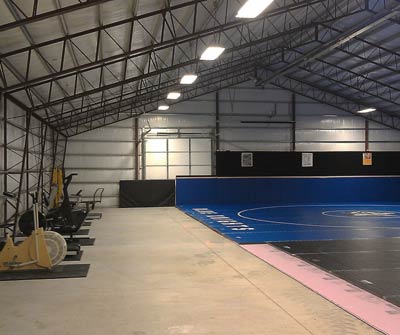 We offer a wide variety of steel and metal buildings from garages and workshops to airplane hangars to horse arenas.
Our most popular size is 40' x 60', which is perfect for mini-storage buildings, hobby shops, man-caves and more.
You can choose the size that fits your needs. See our steel building kits page to see different types of buildings, the assembly process, and the tools and equipment needed to complete your project.
Did You Say Customize?
Worldwide Steel buildings are extremely versatile. You can choose from over 42 million variations of designs and add-ons. With our available building accessories, you can customize everything from the dimensions, colors, and exterior finish, to adding lofts, cupolas, skylights, and more.
Once it's built you can completely customize the inside by adding a living space, bathrooms, bedrooms, etc. There really is no limit to what you can do with a steel building!
For more information about metal building kits contact us, or start designing your building with our online 3D Building Designer Tool by clicking the image below.
Posted on April 5, 2017
At Worldwide Steel Buildings, we're used to surprising our customers with bells and whistles they never thought were possible in a steel building. If you thought steel buildings were big metal boxes with little opportunity for customization, you're in for a big surprise. Take a look at some of these options you get when you construct a steel building with Worldwide Steel:
Add a Mezzanine
Imagine a balcony above the main space of your steel building. It's possible in a Worldwide Steel building. Use it for extra storage in your workshop, an office in your garage, or a cool game room in your man cave. Our mezzanine bar joist system lets you easily add a loft anywhere. No matter what you use it for, it's a great way to provide extra space without increasing the building's footprint.
Skylights Let the Sun Shine In
If you thought a steel building was destined to rely on only man-made light, think again. Natural sunlight is completely possible with skylights. Enjoy all the benefits of sunlight in your home, woodshop, or garage. Go ahead, make some vitamin D!
Insulation Keeps You Warm & Cozy
Steel buildings may seem cold, but in reality, they are as warm and cozy as you want to make them. We can install insulation in any steel building, no matter what you're using it for. Many people build homes and enjoy a snug home with no drafts and low energy bills.
Modified Roof Designs Keep It Interesting
Contrary to popular belief, not all steel buildings look alike. You have plenty of roof styles to choose from including single slope, asymmetrical, and gabled. You can even add a cupola! Check out your options with our 3D Building Designer.
Choose from Many Different Exterior Facades
Does your steel building have to look like steel building from the outside? Absolutely not. Besides being able to customize the look of your steel building with a wide range of many colors, you can also completely change the facade by choosing brick, stucco, concrete, or wood. A steel building doesn't have to look like a steel building. Check out these exterior finishes. You can customize it to look like whatever you want! Add cupolas, overhangs, gutters and downspouts, Dutch doors and more.
A Beautiful Steel Building That Will Last for Decades
Considering the durability of a steel building vs. wooden structures (our buildings come with a 50-year structural warranty), and the ease of assembly, investing in a steel building makes a lot of sense.
So, if aesthetics were holding you back, plow ahead and build the structure of your dreams with a steel building from Worldwide Steel!
If you have questions, give us a call at
(800) 825-0316 and one of our friendly representatives will be happy to answer them for you or download our Steel Building Info Guide for more information. Just click on the image below: