Metal Garage Kits
Most modern homes are built with an attached one-, two-, or three-car garage. They're great for keeping your family vehicle protected and getting homeowners into the house warm and dry, but they're a bit delicate for certain purposes and specific needs. Metal garage kits can be the perfect solution if you need a place that can withstand a little dirt, store heavy machinery and handle some grease. 
The steel truss construction in Worldwide Steel Buildings' prefab metal garage kits offers the durability and functionality you need to create a building strong enough to protect your vehicles, bikes, workshop, toys, tractors, and other prized possessions. Our custom steel building kits allow you to customize and finish off your building to your desired specifications. But the quick, easy, and economical assembly of our metal garage kits is what customers love most. Whether they're building a DIY steel garage building or hiring a contractor to help with a commercial-grade metal building big enough to house a fleet, Worldwide Steel makes it easy. Our steel and metal garage kits can be erected three to five times faster than conventional construction, and most steel structures don't require heavy equipment rental to erect.
Customization
Whether you're looking for a simple metal structure to keep your vehicle dry and protected from the elements, or a custom metal garage to store an entire car collection, Worldwide Steel Buildings can customize a steel garage kit to meet your needs — at an affordable price.
With our DIY metal garage kits, you have a blank slate to create your perfectly customized metal garage. Plan and lay out your own equipment, air and power lines, HVAC and more. Our steel garages, workshops and storage buildings can be customized for variable ceiling heights, roof styles (including varied pitches, vertical roofs and A-frames), garage door styles, lifts, woodworking machines, large equipment storage, welding space … whatever you need. And they look good, too. Really! Nearly endless building color options, roof styles and architectural features combine to create a custom metal building that looks better than you ever thought prefab, functional steel garage building kits could look. 
A Clear Span Means No Obstacles
Building your metal garage with Worldwide Steel means no navigating around poles and other structural supports required by conventional construction. With the right roof style, our metal garage buildings can have a clear span of up to 225 feet. That's like a 22-story skyscraper laying on its side… inside your shop! Sure, people building one-car garages might not notice the difference at floor level like they would inside a commercial building, but they'll certainly benefit from the ceiling space — especially if they ever need additional storage space.
Each of our custom steel buildings gives you 100% usable space clear to the peak. We can design them for any type of application, and you can even add a second-floor or loft storage with our exclusive bar joist system. Our metal garage building kits even offer up to a 14′ self-supporting overhang for additional roofed storage outside your building. All our buildings offer an expandable end wall for future expansion. 
Worldwide Steel Buildings are 100% steel but also offer the ability to use wood secondary framing if preferred. With secondary framing on two-foot centers, finishing interior walls becomes easy and cost-effective, making a Worldwide Steel Building the most versatile steel frame building in the market.
Quality & Durability of Worldwide Steel Buildings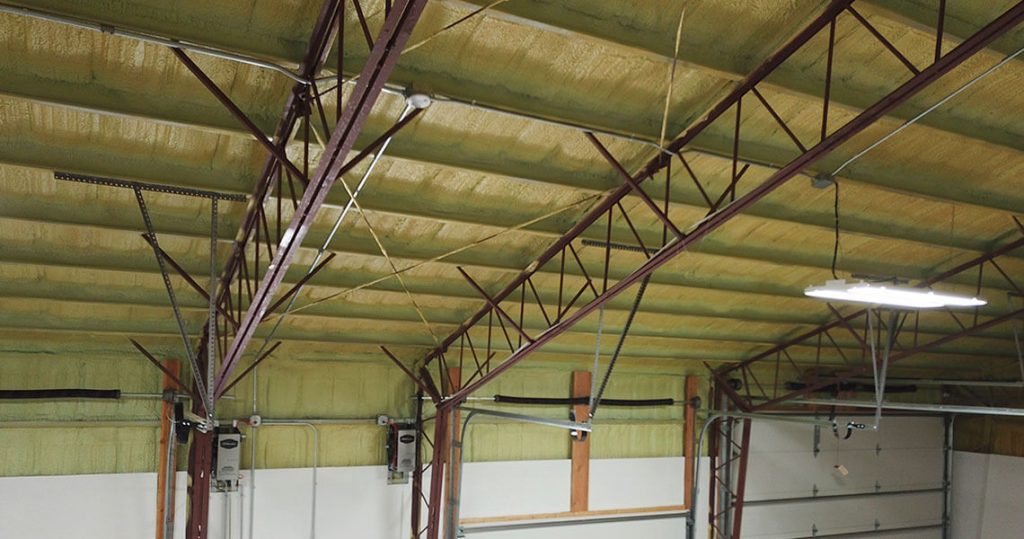 Whether you build a steel garage or any other kind of metal building, one thing's for sure: you don't want to have to worry about it rusting out in just a few years. With Worldwide Steel, that's never a concern. We take pride in our high-quality materials, so you can take pride in your metal garage.
A metal building is inherently more durable than a wood building. It won't rot, won't burn, and can handle a heavy snow load or any other nasty weather conditions. But Worldwide Steel garage and workshop kits take it a step further.
Worldwide Steel Buildings uses only American recycled steel, and our trusses are built on jig tables to maintain the same quality on every metal garage kit. Each truss is inspected and pre-assembled to ensure that your new metal garage kit goes together right the first time. Each of our trusses is dipped in our rust inhibitor/primer tank to help your new steel garage or workshop last for decades.
To prove the high quality of our kits, we offer a 50-year warranty with every one. That sets your Worldwide Steel Building apart from the standard one or two-year warranties offered by many other companies. The premium metal sheeting we use also offers a 40-year warranty giving you a low-maintenance steel building with the durability to last a lifetime.
High Quality and Good Value
Best prices plus the highest quality? That's what you get at Worldwide Steel Buildings. We deliver the highest quality steel and metal garage and workshop packages at some of the best prices in the business to hundreds of commercial, residential, agricultural, and industrial applications.
Plus, some of our competitors' metal garage prices don't include the same level of service as Worldwide Steel provides. Our expert team of consultants work with our architects, engineers and estimators to put together the highest-performance steel garage and steel workshop packages at the lowest cost, making our buildings the best value available. 
Versatility & Design
Want a metal carport for your family home? Storage space for your valuables? The two-car garage you've always needed? A walk-in door on one side and two roll-up doors on another? A flat roof garage, regular roof style or a Gambrel roof with boxed eaves? Whatever you can dream up, you can create it out of Worldwide Steel's metal garage kits.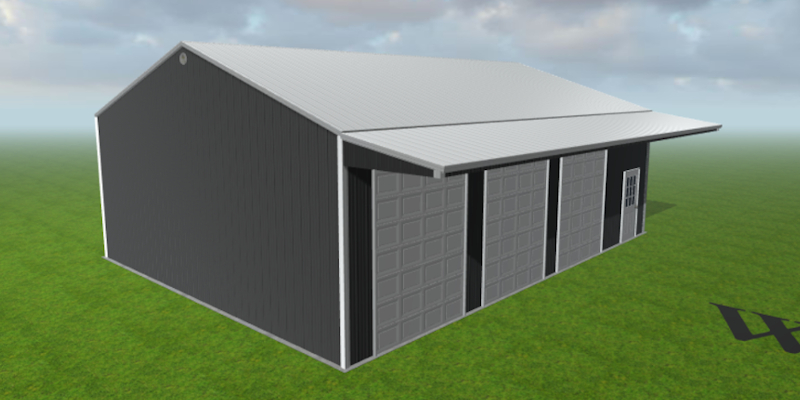 Our 3D building designer shows you just how versatile our metal garage kits can be. Whatever you want to build, we have customization options to create the perfect solution. But that doesn't mean we'd let you design some crazy DIY kits then take your money and run. We care about your garage package, and we make sure it's up to code and right for where you're building.
All the metal buildings Worldwide manufactures are designed to the required loads and codes for the location they are erected. We have buildings across the USA that have been designed for high winds or heavy snow. And for more than 30 years, we've never had a building fail due to structural design.
Factory Direct Advantage
Your Worldwide Steel Buildings metal garage kit comes directly to you from our factory in Missouri. The greatest advantage of factory-direct is the savings from avoiding a middleman. We offer hassle-free delivery of your new custom garage kit to anywhere in the world. We can track your order from start to finish, ensuring that delivery dates are met. Custom requests are handled effectively and efficiently by our staff. And we stand behind our metal buildings, no matter how far away it is.
Why Choose Worldwide?
Quality

High quality products throughout the building process.

Durability

Durable materials with a 50 year structural warranty.

Experience

More than 100 years of building experience.

Factory Direct Advantage

Shipped direct from our factory.

Strength

Designed to withstand harsh weather conditions.
Ease of Assembly

Engineered for simple modular assembly.

Versatility

100% usable space clear to the peak.

Design

Designed to meet required loads and codes for your area.

Service

Dedicated support from first phone call to final bolt of assembly.

Value

The longest lasting metal garage kits at an affordable price.
Recent Garage & Workshop Projects
Check out some of the amazing Garage & Workshop projects our customers have built.
Want a free quote on your metal building kit?
Contact one of our experienced Steel Garage & Workshop Building Specialists today for a free quote to get started on your dream workshop or garage kit. Call 800-825-0316 or click here to fill out our contact form.