Avoid a project disaster and prepare for day 1 of construction…
Whatever your reason for considering the DIY option, whether it be for money savings, a new challenge or you simply enjoy showing off your hard work, this guide will help better understand what the project will require. Then, after reading or scanning the different building stages and skill required, you can review with one of our Steel Building Consultants to make any final decisions if this project is one you want to tackle or if you will need to hire a contractor.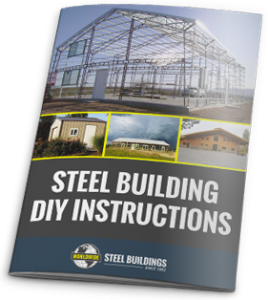 In this guide you will find:
Unloading, Handling and Storage Recommendations for Materials
Minimum Requirement Tool List for the Best Construction Results
Pre-Construction Tips and General Notes
Erecting the Bracing, Bolting, Roofing and Climbing Structure
Electrical Requirements Including Power Lines, Power Tools and Grounding
Column Measurement, Placement and Installation
Steel or Wood Sidewall Installation, Knee Bracing and Wind Rod Bracing
Truss Placement and Roofing Instructions
Steel or Wood, Eave and Gable Installation
Steel or Wood Framing Details, including Windows and Doors
Siding and Trim Installation
This DIY Instruction Guide was originally designed to arrive with your new steel building. But we find it useful to give you this "sneak peek" now so you can make the best decision possible. It's just another way we make doing business easy at Worldwide Steel Buildings. Download now by completing the form to the right.