The World's
Strongest
Steel
Building Kits
Worldwide Steel Buildings manufactures steel building
kits in the USA and ships direct to our customers,
worldwide. Come see what you can build!
IT'S ALL ABOUT
OUR CUSTOMERS.
3D Designer
Design Your
Dream Steel
Building
Take the first step to actualizing your DIY metal building project. Use our 3D Building Designer tool to create the custom steel building of your dreams. Experiment with a range of building sizes and styles by:
Setting the width, length, and height of your building project
Selecting the roof style and rise
Add windows, doors, cupolas & more
Choose colors for roof, wall, trim & more
When you're finished, save your custom metal building design, get a free quote, or share your building project plan with friends!
WHY
WORLDWIDE
STEEL
BUILDINGS?
Worldwide Steel Buildings stands apart from and above the rest, based primarily on our ability to offer cost-effective metal building kits of the highest quality.
What sets us apart from other steel building companies?
Our steel building kits are made from the highest quality materials and shipped directly from our factory to you,no matter where in the world you are. With Worldwide,you can be certain that you are receiving the best prices on prefab metal buildings and investing in a cost-effective solution for any building project.
QUALITY
Highest quality products throughout the building process.
DURABILITY
Durable metal building materials with a 50 year structural warranty.
EXPERIENCE
More than 100 years of steel building experience.
FACTORY DIRECT ADVANTAGE
Shipped directly from the building manufacturer (us!) to you.
STRENGTH
Designed to withstand harsh weather conditions.
EASE OF ASSEMBLY
Prefab metal buildings engineered for simple modular assembly.
VERSATILITY
100% usable space clear to the peak.
DESIGN
Cost-effective designs meet required loads and codes for your area.
SERVICE
Dedicated support, from first phone call to final bolt of assembly.
VALUE
The longest lasting steel building kits at some of the best prices in the business.
Buy direct

from the manufacturer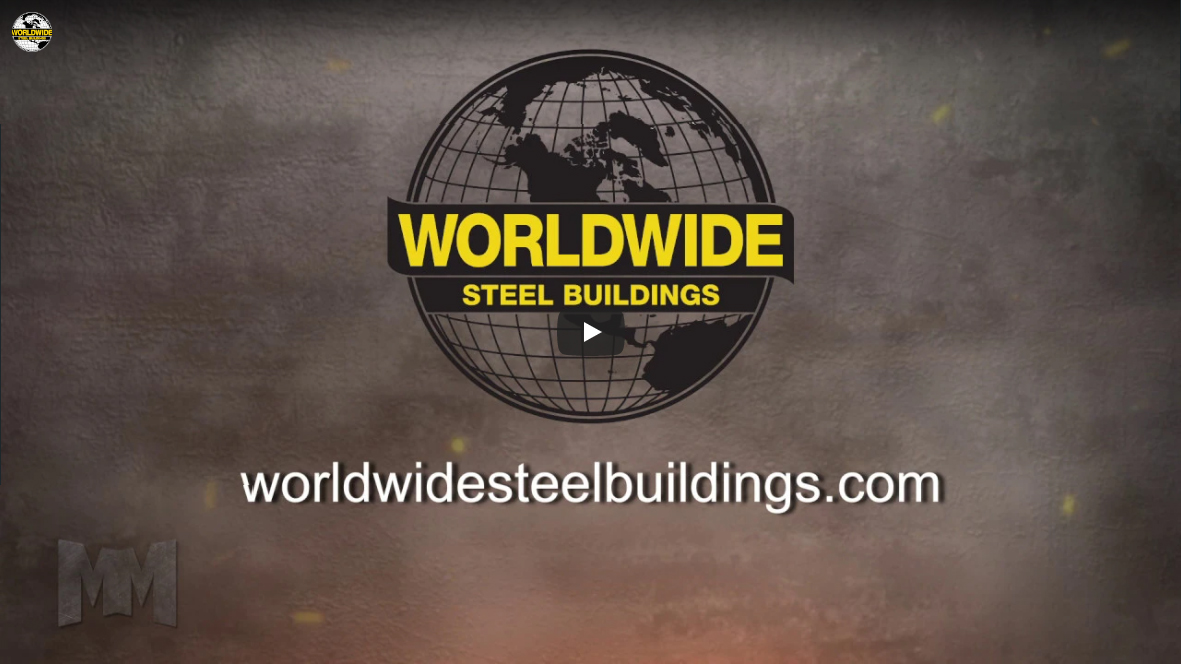 Worldwide Steel Buildings was recently featured on the Manufacturing Marvels segment of Lou Dobbs on The Fox Business Network

SPECIALS
Limited
Quantity
Steel
Building Kits
Buying a metal building kit directly from the manufacturer not only helps ensure its quality, it can help save you a lot of money. Check out our specials page to view these and other specials and discounts.
Customize
your steel
building
Our steel building systems are fully customizable, for whatever type of building project you want to undertake. Worldwide Steel customers have successfully constructed a wide range of metal building projects from carports to mini storage buildings, from farm equipment storage to strip malls, from airplane hangars to riding arenas. You choose your roof style, your garage doors, the color of your paint – it's all up to you.
Looking for custom metal building inspiration? Check out just some of the steel structures you can erect with the steel building kits from Worldwide Steel:
Download These Helpful Guides
Download
these
helpful
guides
Whether this is your first metal building project or you're
looking to stretch your expertise with a more involved
custom metal building, Worldwide Steel Buildings is
beside you every step of the way. When you're ready to
get started, our team of experts is here to answer any
questions you have about our building systems. For now,
if you're brushing up on your metal building kit
knowledge solo, we provide these helpful guides to help
you get started.
Unlike many other steel building companies, Worldwide Steel operates as more than just a middleman. We're your building manufacturer, your expert advisor (questions about clear span, job site requirements or local snow load recommendations? We've got answers) and your steel building project champions – from idea to completion.
When you need your metal barn, metal garage or other metal building kit to be high quality, cost-effective and fully-customizable, you need to work with Worldwide Steel Buildings.
Curious about Worldwide Steel building prices? Contact us today for a free quote
Back To Top