Sometimes, you have to make a responsible, educated leap of faith to make your dreams come true. And when that dream happens to require investment in a physical property — whether it's finally becoming a homeowner by building a new metal home or barndominium for your family, a new metal garage to support your independent vintage car repair shop, a commercial building so you can expand the footprint of your small business, or a horse barn, so you can finally have a horse of your own — the dream may well come before the dollars.
Worldwide Steel Buildings understands that, and we don't expect our customers to pay for their entire metal building kits up front, no matter what their goal or financial situation. That's why we offer metal building financing options that are attainable for just about everyone.
Metal Buildings That Are Easy to Build and Easy to Afford
We know it's important to your personal and corporate financial success to have the space you need when you need it. Oftentimes, that means you need to invest in your metal structure before the money can follow. That is why financing options are available on every building kit, to those who meet basic criteria.
Worldwide Steel Buildings is happy to offer financing services that can help you make your dreams a reality and allow you to build when you need to.
Plus, our metal building kits are cost-effective anyway (especially compared to a traditional home), so the monthly payments you'll make on your low-maintenance, long-lasting building should be reasonable and affordable.
How to Qualify for Financing
Financing for a metal building kit is easy to get. There are no upfront fees, no prepayment penalties, and no appraisal required. Unlike with many other contracting agencies, equity is not required for metal building kit financing.
Want to finance your metal building, but worried your credit score or credit history will keep you from being approved for metal building financing? We truly encourage you to enquire regardless. The lenders we work with will be able to modify your loan terms based on building cost, down payment, and other factors that are within your control.
Our lending partners offer competitive interest rates and specialize in construction loans, so you can feel confident you're working with people who know what they're doing (both at our lending partner, New Century Bank, and at Worldwide Steel, where we manufacture your steel structures ourselves — no middle man).
What Kind of Metal Building Kit Will You Finance?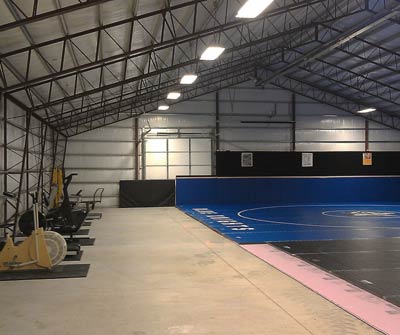 We cannot stress this enough … it's whatever kind you want! Worldwide Steel offers a wide variety of steel and metal buildings in all shapes, sizes and finishes. From a modest carport to an imposing storage building or crowd-ready community building, no construction project is too big and no construction project is too small.
You can choose the size and style that fits your needs. See our steel building kits page to see different types of buildings, the assembly process, and the tools and equipment needed to complete your project. Then start designing your building online with our 3D Building Designer Tool to see just how customizable our building kits really are.
Did You Say Customize?
Sure did. Worldwide Steel buildings are extremely versatile. You can choose from over 42 million variations of designs and add-ons. With our available building accessories, you can customize everything from the dimensions, colors, and exterior finish, to adding lofts, cupolas, skylights, and more. There really is no limit to what you can do with a steel building!
We can't wait for you to find out firsthand.
Let's find the perfect type of loan for your new metal building project, together. Contact us or call (800) 825-0316 to learn more about beginning the financing process.

At Worldwide Steel Buildings, we're used to surprising our customers with bells and whistles they never thought were possible in a steel building. If you thought steel buildings were big metal boxes with little opportunity for customization, you're in for a big surprise. We offer a wide variety of steel building accessories to improve the character and functionality of your building project. Take a look at some of these options for metal building additions that are available when you construct a metal building with Worldwide Steel:
Add a Mezzanine
Imagine a balcony above the main space of your steel building. It's possible in a Worldwide Steel building, and is a fantastic, cost-effective way to increase the usable space in your building. Use it for extra storage in your workshop, an office in your garage, or a cool game room in your man cave. Our mezzanine bar joist system lets you easily add a loft anywhere. No matter what you use it for, it's a great way to provide extra space without increasing the building's footprint.
Skylights Let the Sun Shine In
If you thought a steel building was destined to rely on only man-made light, think again. Natural light is completely possible with the addition of skylights. Enjoy all the benefits of sunlight in your home, woodshop, or garage. Go ahead, make some vitamin D!
Insulation Keeps You Warm & Cozy
Steel buildings may seem cold, but in reality, they are as warm and cozy as you want to make them. We can install insulation in any steel building, no matter what you're using it for. Many people build homes and enjoy a snug home with no drafts and energy-efficiency (that means lower energy bills, too).
Modified Roof Designs Keep It Interesting
Contrary to popular belief, not all steel buildings look alike. You have plenty of roofline styles to choose from including single slope, asymmetrical, and gabled. You can change the size of your eave extensions. You can even add a cupola! Check out your options with our 3D Building Designer.
A Metal Building Add-On Expands an Existing Structure
Adding a building expansion to your existing building can be a real undertaking when you're working with traditional building construction. When you're working with prefab metal buildings, especially precision-engineered Worldwide Steel building kits, it's much easier. Whether you want to expand the entire footprint of your original building or just add a simple new addition like a carport, 
Choose from Many Different Exterior Facades
Does your steel building have to look like a steel building from the outside? Absolutely not. Besides being able to customize the look of your steel building with a wide range of many colors, you can also completely change the facade by choosing brick, stucco, concrete, or wood. A steel building doesn't have to look like a steel building. Check out these exterior finishes. You can customize it to look like whatever you want! Add cupolas, overhangs, gutters and downspouts, Dutch doors and more.
A Beautiful Steel Building That Will Last for Decades
Considering the durability of a steel building vs. wooden structures (our buildings come with a 50-year structural warranty), and the ease of assembly and the overall versatility, investing in a steel building makes a lot of sense — especially when you see the extra character you can add with our steel building additions.
So, if aesthetics were holding you back, plow ahead and build the structure of your dreams with a steel building from Worldwide Steel!
For a free quote on your new building project, give us a call at (800) 825-0316. One of our friendly representatives will be happy to talk you through the process of choosing Worldwide Steel structures. For more information on choosing between metal structures or the construction process, download our Steel Building Info Guide for more information. Just click on the image below: