Category Archives: Agricultural Buildings
You don't need to specialize in steel building construction to put up a Worldwide Steel Building. Just ask Scott Tallman, president of Tallman Construction, a general contractor in Idaho Falls, Idaho. "It's a user-friendly solution that doesn't require any special equipment or tools," he says. "My guys had no problem putting it together. Everything went very smoothly from start to finish."
Scott designed and constructed two steel buildings for Sun Rain, a client of his that grows and distributes a variety of potatoes. One of the structures required a constant temperature between 48 and 52 degrees, meaning a poly-foam insulation had to be applied to the entire building. Fortunately, Scott was able to do so thanks to the versatility of the Worldwide Steel product.
Beyond versatility, Scott says he chose Worldwide Steel over other manufacturers because it offered both better pricing and better service. It's why he'd use Worldwide Steel in the future along with recommending them to others. "We definitely had a great experience with the product and the staff. I'd work with them again in a heartbeat."
Scott Tallman is one of many satisfied Worldwide Steel Buildings customers. Learn what others have to say by visiting worldwidesteelbuildings.com. Then try out the free 3D Design Tool to map out plans for your steel building.

Get a clearer picture of the steel building in your future with a little help from the satisfied customers of Worldwide Steel Buildings. Now available on our website are design examples created by our customers (with our popular 3D Building Design Tool) that served as the springboard for the steel building of their dreams.
You'll feel inspired to take your design to the next level by viewing the plans of others whether you're thinking of building a garage, workshop, house, barndominium or commercial building. Worldwide Steel Buildings hopes to help people get over the design hump by simply sharing the work of others.
"Sometimes it just takes a little spark to the imagination to complete a building design," says Jeff Snell, president and CEO of Worldwide Steel Buildings. "And what's great about our 3D design tool is that it provides a clear vision of the buildings that's swirling inside the heads of our customers."
So take a look-see at the other building designs today to get inspired for tomorrow. Go to https://www.worldwidesteelbuildings.com/design-examples/.

With a 50-year warranty from Worldwide Steel Buildings, Adam Fike has a feeling that the two structures on his 10-acre property will be around for a very long time to come.
"I anticipate that both buildings will outlive me," says Adam, who resides on 10 acres in Spring Hill, KS. "I wanted a product that would last a lifetime so I decided that steel was the best way to go. I'm glad I don't have to worry about wood rot and other costly maintenance issues."
Adam also liked the idea of lower upfront costs. Early on he learned he could save a bunch of money by choosing steel over wood for his two buildings – one of which is a 24' x 30' structure that he utilizes to operate his residential painting business. The shop provides materials storage in addition to space for spraying out cabinets and doors.
His other building is 40' x 40' and is used for a light farming operation. It serves as home to cows, goats and horses as well as storage for hay and equipment. For both buildings, Adam chose to go with off-the-shelf packages provided by Worldwide Steel, which still provided room for some customization.
"I was really amazed at how easily everything came together," claims Adam. "The building components are manufactured like well designed puzzle pieces." He was also impressed with the customer service at Worldwide Steel from start to finish. "Everyone I worked with was really knowledgeable and respectful. It was just a great experience overall."

A little knowledge can go a long way when weighing the pros and cons of a steel building, according to Mark Bockelman, owner of Bockelman's Landscaping and Garden Center in Fowler, Ohio.
"Unfortunately, some people are afraid of steel because they don't know enough about it," explains Mark. "But steel is really an excellent option for buildings because it's durable, versatile and affordable. I recommend it – and Worldwide Steel Buildings – all the time."
Bockelman knows firsthand the value of steel after deciding to use galvanized steel framing (manufactured by Worldwide Steel Buildings) for the greenhouse he and his teenage daughter, Leah, assembled in 2017. The 24' x 40' structure, which features corrugated walls and partially corrugated roofing, still looks new today despite the naturally wet environment.
Bockelman credits the custom galvanization he requested from Worldwide Steel Buildings for protecting his greenhouse from rusting and pitting. And that's important to him, not only from a long-term structural standpoint but also in regard to business growth. As a retailer, he needs his greenhouse to look good on all levels.
"Offering a clean and pristine shopping environment is meaningful to our customers," says Bockelman, who's been in business for over 30 years. "It's one of the keys to our success."
Get started on designing a steel building for your business or personal property by utilizing the free 3D Building Designer Tool at WorldwideSteelBuildings.com.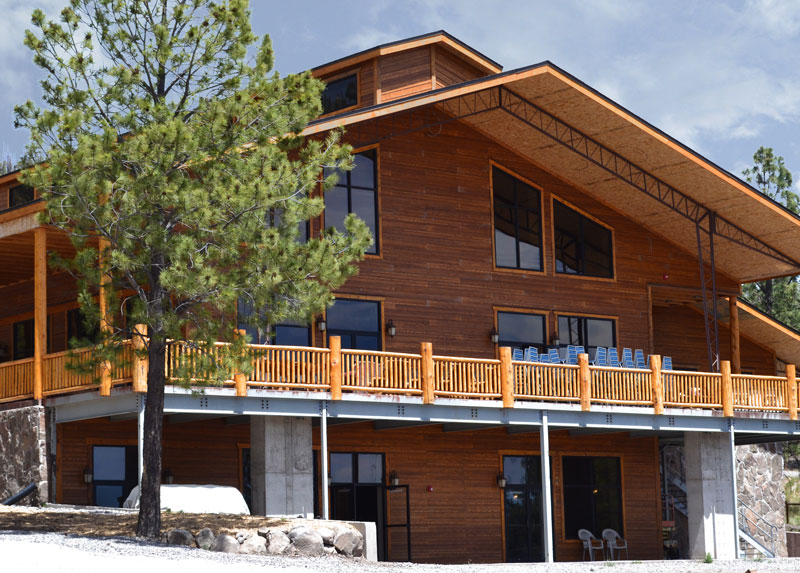 We love the look of our steel buildings, and we want to make sure our customers do, too. Our sheet metal siding comes in a wide range of colors which you can "try before you buy" using our 3-D Building Design Tool.
But a steel building doesn't have to look like a steel building if you don't want it to. Our customers have the benefit and flexibility of using a range of other exterior options if sheet metal isn't their preference.
Between siding options and exterior finishes in a variety of colors, your metal building can be designed to resemble traditional construction … without losing all the benefits that come along with choosing a steel frame structure.
Aesthetics That Match Your Vision
Having the flexibility to choose the look of your exterior walls can be particularly important when trying to match a look that may already exist on your property – or matching a new steel frame house to the surrounding neighborhood.
Worldwide Steel Buildings' team has worked with many of our customers to design steel structures using a range of exterior finishes beyond metal wall panels, including brick, stone, stucco, and even wood siding.
Brick exterior
Bricks are one of the oldest building materials, having been used as far back as 7,000 BC. Brick is a durable and fire-resistant exterior finish option that provides a high-end, classic look with lots of curb appeal. Brick veneer is a good choice for a single family home, detached garage, or small business.
Stone siding
Stone (or faux stone like GenStone) provides a unique, organic appeal to single-family homes and certain commercial buildings. It is more durable and lower-maintenance than wood, and natural stone is likely to outlast most everything built today. Stone can camouflage the appearance of prefab metal buildings almost entirely.
Stucco
Traditional stucco is a very popular finish option especially in warmer climates thanks to its light-colored natural appearance. If you want your metal building project to gain even more energy efficiency and durability (stucco is resistant to fire, mold, rot and infestation, just like steel), consider stucco. Because the material now comes in pre-cut stucco panels, adding a stucco finish can be an easy way to enhance the appearance of your home, commercial building or recreational building.
Wood siding
Customers who want all the benefits of a custom metal building as well as the appeal of traditional construction often choose wood siding as a finish option. Wood offers a lot of variety in format (between shiplap, shake, shingle, tongue and groove and more) and customization (because it's so easy to paint and repaint). Wood siding is also a comparably inexpensive and accessible finish option, and using it on a steel building kit negates some of its drawbacks (like a lack of insulation). 
Strength You Can Depend On
Whatever exterior finishes you choose, you still get the strength and durability of our steel truss framing, backed by our unmatched 50-year guarantee. You also get the other benefits of our steel building kits, including full customization, clear interior spans giving you flexibility of interior layout, affordability, and ease of assembly.
Need some inspiration to get started on your project? Look at photos on the "Steel Buildings" tab, check out our 3-D Design Tool, or talk with a Building Consultant specialist to create a structure with the perfect look for your needs.
---
For more information about metal building kits contact us, or start designing your building with our online 3D Building Designer Tool by clicking the image below.


Summer is officially here – but we don't need to tell you that. Cities across the country have been experiencing record heat and high temperatures, and there's not much relief in sight … fall is still months away. It's hot out there!
Fortunately, air conditioning is available pretty much everywhere, and that certainly includes inside steel buildings. Each of our metal building kits is completely customizable to accommodate the specific climate control needs of your building usage. Keep in mind, when you're considering an HVAC system for your metal building, an AC unit probably won't cut it. It will get cold again (I know, it feels hard to believe) and you want to be prepared.
Flexibility to Incorporate Building Systems
Whether you want to air condition the office space within a hybrid warehouse/office structure, or provide climate control for your entire garage, workshop, or single-family steel home, you can plan and lay out your own HVAC (as well as power and other systems) for part or all of your building kit. Need a little help determining what your building needs? Our experienced customer service team can work with you to understand your HVAC and systems needs and customize your building kit to achieve them, with maximum energy efficiency in mind.
Design Elements to Help You Keep Your Cool
While a central HVAC heating system and cooling system is the primary means of keeping things cool in the warm weather (and vice versa), some of the most basic design elements can also be used to help manage climate and air circulation in your steel building:
Doorways/openings: With clear span buildings 24-225 feet, our steel building kits allow for large garage door openings on multiple sides of the building to provide cross-ventilation. This is most often a consideration when designing the exterior walls of commercial buildings.
Windows: Another obvious, but important element: Worldwide Steel Buildings' clear span designs also allow you to place windows to maximize (or minimize) natural light and ventilation based on your specific building site. Homeowners in particular should consider the climate aspects of their prefab steel building kits. When the weather is pleasant, don't underestimate the power of opening those windows to circulate some fresh air!
Ceilings/roofs: The open design of our building kits means you can customize the ceiling height and roof pitch to allow heat to rise to the top of your building, vent out of your building and away from your belongings, equipment – and from you. Our building kits also allow ductwork to distribute warm and cool air throughout every square foot of your building.
Insulation: While much of the energy-efficient climate control is inherent to the properties and design of your steel building, insulation systems make a major impact, too. Whether you opt for loose-fill, blown-in, batt and roll, reflective insulation, radiant barriers or spray foam, your building can accommodate it.
Let us know how we can help you design a building with an adequate heating and AC system, so your new project stays comfortable all year round. And for now … stay cool!
For more information about the benefits of Worldwide Steel metal building kits, contact us today. You can also start designing your building with our online 3D Building Designer Tool!

Let's face it. No matter what form your building takes–whether it's a simple backyard shed or a spacious machine shop–paying for it will require some planning. If you're attracted to the value of a high-quality steel building, but worry that you'll have to pay a hefty premium for it, we have some good news!
Customers frequently discover that working with a Worldwide Steel Building Kit is substantially more budget-friendly than they thought. Here are a few reasons why:
Lower Installation Costs
This is perhaps the biggest advantage of our do-it-yourself building solutions. Most quality steel buildings are specialty projects constructed on-site, using hired labor and heavy equipment that can rapidly grow your total cost by several thousand dollars. Many do-it-yourselfers are intimidated by the prospect of erecting a steel building, but our easy-to-assemble steel building kits make the process so simple that any property owner with access to these tools can do it.
Because our parts are prefabricated in easy-to-handle units that are simply bolted together on-site, no welding is necessary, and the only heavy equipment you might need is a power lift–which, thanks to the ease of assembly, you'll only have to rent for a day or two instead of weeks at a time. So the money you save on labor and equipment can go toward what really matters: higher quality building materials and getting the building you've always dreamed of.
Built to Last with No Hidden Maintenance
Many property owners fail to consider the maintenance costs that will sneak up on them over the life of your average building, and that's a big mistake. What many forget is that wood buildings require continual monitoring and periodic treatment for wood-destroying insects, moisture penetration, and basic rot and decay.
Composite roofing requires replacement every ten years, and paint jobs fade even sooner. Worse, an inadvertent lapse in maintenance or an undetected infestation of termites can lead to structural problems, requiring costly major repairs.
By contrast, our steel buildings are impervious to water, require no treatment for insects, and come with pre-painted sheet metal boasting a 40-year warranty–and that's on top of our industry-leading 50-year structural warranty on all prefabricated trusses. Your return on investment (ROI) is substantially higher with steel because you'll enjoy a much longer use of your building, and the premium you pay for superior materials will likely be more than offset by the amount you save in long-term maintenance.
Related Read: Why Tornado Alley Chooses Worldwide Steel Buildings
Special Financing Options
Our customers are shrewd bargain-hunters, and we respect that. That's why we keep our prices competitive and regularly offer special pricing deals and discounts that can help you kick-start a project at an even better value. We're also proud to offer affordable in-house financing with low fixed rates for well-qualified customers. Our partnership with Lightstream means you may be eligible to borrow as little as $5,000 or as much as $100,000 through a paperless application process, with no fees, no down payment, and no collateral requirements.
If you're ready to invest in a high-quality, made-for-a-lifetime steel building, then now is the time to act.
Give us a call
at (800) 825-0316 for help selecting a package that is just right for your budget. Our guys will gladly lead you toward making your dream a reality–for less than you might think.
With over a quarter of a century solid experience designing and building steel buildings, including agricultural steel buildings and DIY kits, why would you trust anyone other than Worldwide Steel Buildings with your agricultural building project?
Every pre-engineered metal building project we design and manufacture is built to meet or exceed the standards of the agricultural building construction guidelines and your individual needs.
Whether your metal agricultural building is a barn, hay storage facility, equipment storage area, or any other type of agricultural building, Worldwide Steel Buildings will provide everything necessary to complete your project as smoothly as possible. And the agricultural buildings for sale at Worldwide Steel Buildings are always competitively priced.
Easy to Assemble DIY Steel Building Kits
Your new agricultural steel building kit comes in a complete, all-inclusive kit including concise, easy to follow plans. When you purchase your metal agricultural building kit from Worldwide Steel Buildings, you can rest assured you have everything you need to successfully complete the job, but also that your construction project will go smoothly, quickly and easily. You'll know your custom designed agricultural storage building(s) are built from the finest American steel components available anywhere you find agricultural buildings for sale. You'll rest easier with your new Worldwide Steel Buildings, metal agricultural farm building knowing your livestock, hay, and equipment is stored safely in the finest agricultural building construction available in today's market.
From standard sizes and styles to design build or off your plan, Worldwide Steel Buildings offers the highest quality steel agricultural buildings, using proven all steel construction methods, backed by over a quarter century of experience and satisfied customers. This all means that you can count on Worldwide Steel Buildings to help ensure that your new metal agricultural building does everything you need it to do, and then some.
When you are ready to explore your new agricultural storage building project, contact Worldwide Steel Buildings at (800) 825-0316 to discuss your individual needs with one of our professional design consultants. We will help you to create the right agricultural farm buildings to meet your specific, individual requirements.