Unsure about building your own steel building? You'd be amazed how easy it can be with a steel building kit from Worldwide Steel! Not only can you save money by choosing to DIY your steel building, but our building kits are designed for easy assembly and are built to last.
Check out how simple the building process is, as well as the other benefits of purchasing a Worldwide Steel Building.
Steel Building Kits Designed for Easy Assembly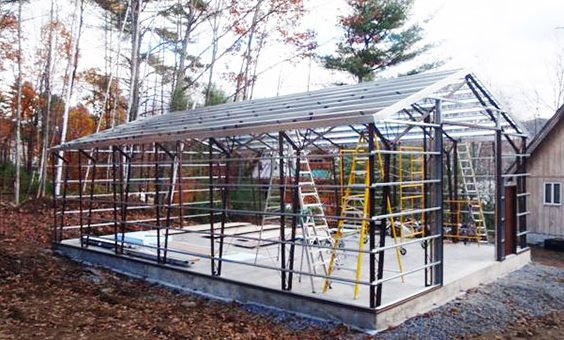 If you have the tools and the time, our DIY kits are so easy to assemble. We make it so easy that you can completely forego hiring a contractor. All of the trusses are pre-punched so all you have to do is bolt them together. The purlin and girt clips are also factory-welded to help ease the pains of construction. Even the screws are self-sealing to prevent leaks. All you need are the tools and a little bit of talent!  
Afraid to buy it before you try it? That's ok! Check out our online assembly manual to see if you're up to the task before committing to the purchase.
Tools Needed to Assemble a Worldwide Steel Building
An additional benefit of choosing a Worldwide Steel building kit is that, outside of a few basic tools – which you most likely already have – everything is included in the kit. This means you'll have to do less ordering, less traveling to pick materials up, and most importantly, lower costs! Want to see if you've got the necessary tools? Click here to see the 4 tools you'll need, besides your toolbox basics.  
How DIY Steel Building Kits Can Save You Money
Not only can you save money by not hiring an outside contractor, but you'll save time because our DIY building kits come with everything you need, all in one, ready to assemble package.
If you've ever had a hand in putting together a building you know one of the great hassles (and costs) is getting all the materials together from many different sources. Luckily, we've done the work for you, which means you can skip the additional markup costs and hassle of finding the best deal amongst many different sources.
Ready to get building? Try it before you buy it with our
FREE 3D Building Designer
which allows you to design and customize your own steel building in just a few clicks! Click the image below to try it out!

One of the best things about building your new metal building from a pre-engineered kit is that it's truly a do-it-yourself project. Really. No prior experience or advanced skill required. Never set foot on a construction jobsite before? Don't worry about it.
Worldwide Steel Buildings designs steel structures a contractor would be proud of, but so easy to assemble that a weekend warrior can do the job (and we'll admit — that's the customer who might be a little bit more proud when all's said and done).
Because our building systems are manufactured in-house to our exacting standards, and many of the building materials are pre-welded, there won't be any unwelcome, frustrating surprises in store.
In fact, the average DIYer will need only the power tools and hand tools already in their toolbox … plus these four extra tools (and some safety equipment, like hard hats, safety goggles and a first aid kit. Safety first, kids).
1. Extension Ladder
Consumer reports offers this handy buying guide for extension ladders. They recommend you:
Buy the right ladder for the job.
Choose the right height for your project.
Test it out. Take a moment and climb it. Three steps up and it should not bend, tilt or "walk." 
Familiarize yourself with the mechanisms used to lock and adjust the ladder.



2. Tin Snips
Quality tin snips can cut into metal as easily as scissors cut paper. The longer blades make it easy to cut straight leaving a smooth edge. If you don't already have a pair, make sure you get tin snips designed for the gauge metal supplied in the garage kit.




3. Screw Gun
A screw gun takes a lot of time and effort to add the fasteners to your building. Screw guns are similar to power drills, but the nose holds onto screws and makes your job a lot easier.




4. Metal Cutting Blade
These blades are made from specially hardened steel. Their precision design consistently delivers accurate cuts on even the most challenging materials, like steel. They are engineered to dampen noise and lessen vibration, making cutting sheet metal a dream.





Toolbox Basics
In case you are wondering, and we know you are, the following is what we expect the average DIYer to have in their toolbox:
Screwdriver
Tape measure
Hammer
Socket
Ratchet
Wrench
Level & Plumb Bob
Drill
Tri-Square
Shovel
Vice Grips
Don't worry – if you're missing any of the tools mentioned, you can find them at your local hardware store for a reasonable price.
These suggestions apply to all our pre-engineered metal building kits, by the way. Sure, airplane hangars and fleets of storage buildings may seem more complicated than carports or sheds, but the principles of the building construction are all the same.
Worldwide Steel Buildings wants you to breeze right through the construction process, so we've put together DIY instructions that'll walk you through it! You can find those here.
Want to know more about the process, or get a free quote? Give us a call! One of our experts would be more than happy to talk you through the benefits of choosing Worldwide Steel (like the durability, the affordability, the industry-leading 50-year warranty …). Reach us at (800) 825-0316.