There are a lot of things that set Worldwide Steel Buildings apart from the competition.
Our 3D virtual steel building designer, the quality of our materials, the ease of erecting our steel buildings and our 50-year structural guarantee, to name a few.
But when you're starting a steel building project, even if it's not your first, you probably want some reassurance along the way. Confirmation that you've thought the design through, that you've measured your needed square footage correctly, that you aren't forgetting any key elements that would be a pain to add in post-construction. And once the trusses start going up, it's comforting to know there's someone you can call – someone you can trust – if you have any questions along the way. 
And that's where Worldwide Steel really shines: our team. Our trained building consultants, ready to help you design the building of your dreams and see it through to reality. Our steel building experts across the country are happy to guide the construction of your new steel building from the brainstorming process right up until the installation of the last screw. 
One of those team members is Kevin Paulsen, who started working at Worldwide Steel's Colorado location on New Year's Day, 2018. 
"I grew up around construction," Kevin says.  "My dad used to be a builder, so much of my general knowledge comes from that. Before joining Worldwide Steel Buildings, I was an Area Manager for Pepsi and Coors in Wyoming. Then I moved to Denver and began working for a different steel building company. 
After my experience with them, I did not think I would come back into the steel buildings world. After meeting Jeff Snell and Warren Bott, I knew that things were being done the right way here and could see myself being a part of their team."
Here's what Kevin thinks sets WWSB apart from the competition: 
What is unique about Worldwide Steel building materials? 
"You'll often come across a competitor that says they provide steel buildings. But in actuality, it's all wood framing with some steel siding. There's no comparison in quality. Worldwide Steel has different truss designs that really tailor to whatever needs the customer has. When you switch over to the competition, that are truly just steel building providers, they can typically only provide one type of steel building: a rigid frame design. I say "providers" because there are many places out there that are brokers and they don't manufacture their own product. At WWSB, customers know exactly what they're getting and where it's coming from."
What's the Worldwide Steel difference in terms of customer satisfaction?
"I think that we do a great job as a whole when we're helping our customers. We have a lot of very knowledgeable salespeople who work with the customers from conception to completion of the project. Behind every building consultant, there's a lot of support, as well. We have a wealth of information and are able to help with anything a customer may need, thanks to our great customer and sales support staff, detailing department, management, and ownership. You can take that out to the shop, too, where the components of every building are made. The individuals out there take pride in their work and do a great job of making a customer's dream building come to life."
For Kevin and the rest of the Worldwide Steel team, customer satisfaction is the driving force behind all their hard work. 
"I don't think that I could name one favorite project," Kevin says. "I really love when my customers are happy and start sharing project pictures with me. I have customers that will forever be friends. That is what makes what I do the most satisfying."
 If you want the security of knowing your steel building materials are of the highest quality, manufactured right on site, and backed by the support of knowledgeable building consultants like Kevin, you want to work with Worldwide Steel. 
Whether you have questions about how to get your steel building project off the ground (figuratively or literally), or you're ready to start breaking ground, our team is ready to help you. Give us a call at (800) 825-0316 to discover what's so special about working with Worldwide Steel Buildings. 
Worldwide Steel buildings are designed to be DIY – that's a selling point written all over our website. But sometimes we find that first-time steel builders, or people who are looking at especially complex or commercial building design projects, still seem wary of the construction process.
If you're one of these people – someone asking "can I really do this all by myself? Build an entire steel building from the ground up? Shouldn't I hire an architecture firm and an engineer to make sure I'm getting it right?" – here's the low-down.
DIY steel is the real deal
Generally, yes. You can do it all yourself. The steel frame, the open web trusses, the wall panels and the roof panels. You might want to have a buddy or two around to help you erect walls and hoist the metal roof, but you usually don't even need to rent any heavy equipment or hire any professionals.
Because the expert Worldwide Steel team provides full-service assistance with your steel building – from conception through construction – we're able to do many of the things architects and engineers traditionally do, as part of our relationship with you. When you work with us, we're more than a standard sales-focused metal building company. We're your design-build team and your building manufacturer along with everything else, which means we're there every step of the way as your metal building system comes to life.
While we encourage you to start imagining the reality of your metal building through our 3D Building Designer, because we think it helps you envision your final product (and course-correct on anything you thought you wanted but maybe no longer do), and because it helps us get a sense of what's important to you, we never take a 3D design as law. Along with a quote for what your prototype steel building would cost, we walk through all the aspects of your project that contribute to the success of your building. For example: floor plans, elevations, roof plans, site plans, egress plans and code compliance – aka, the things an architect or engineer usually deals with. You will always receive a Worldwide Steel building kit that is designed to be load-bearing, structurally sound and up-to-code.
If you need them, Worldwide Steel also provides building engineered stamped prints of your metal building designs for a fee. We also design each building to meet our customer's local building requirements and provide a set of blueprints, even if you don't need them to be certified.
Here's when you might want an architect or engineer on board
However. Our team can't always be there with you on-site when your building is being erected. Again, this is usually nothing to worry about, but on occasion, our clients come to us with very complicated commercial projects, and the complexity of those steel buildings could mean that involving an architect or structural engineer who is experienced with steel building construction is the most effective solution.
Our team can almost always provide you with everything you need for a successful project, even if we aren't boots on the ground alongside you. But if you're working on, say, a multi-floor commercial project in an area with unique zoning, strict safety requirements and lots of complicated HVAC, in an area where we have less experience with building codes … then sure. A professional engineer or architect looking over your shoulder and reassuring you as the project moves forward can certainly provide peace of mind.
We also like to remind people that architects and engineers are helpful beyond the building itself if that is of any concern. When deciding on building placement, for example, an architect can advise you on wind direction, drainage, easements, and how each can affect the efficiency and longevity of your structure.
Additionally, if your steel building project is going to be part of a group of buildings that aren't identical but should look and function cohesively, an architect can help you achieve that consistency.
What if I just don't want to DIm(Y)self?
If, for whatever reason, you simply don't want to DIY your steel building and would rather hire out the job, you probably still don't need an architect or engineer. In almost all cases, a local contractor will have more than what it takes to raise your steel structures, and for a lower cost.
Because erecting one of our pre-engineered metal buildings is so easy, there are contractors across the country that can build your building for you. Depending on where you're located and what kind of building you're erecting, our team might be able to put you in touch with one of our trusted contractors.
If you're not sure whether your project is complex enough to warrant involving an architect or an engineer, or if you want help choosing a contractor, or if you have any other questions at all about the process of erecting a prefab metal building, the Worldwide Steel team is here for you. Give us a call at (800) 825-0316.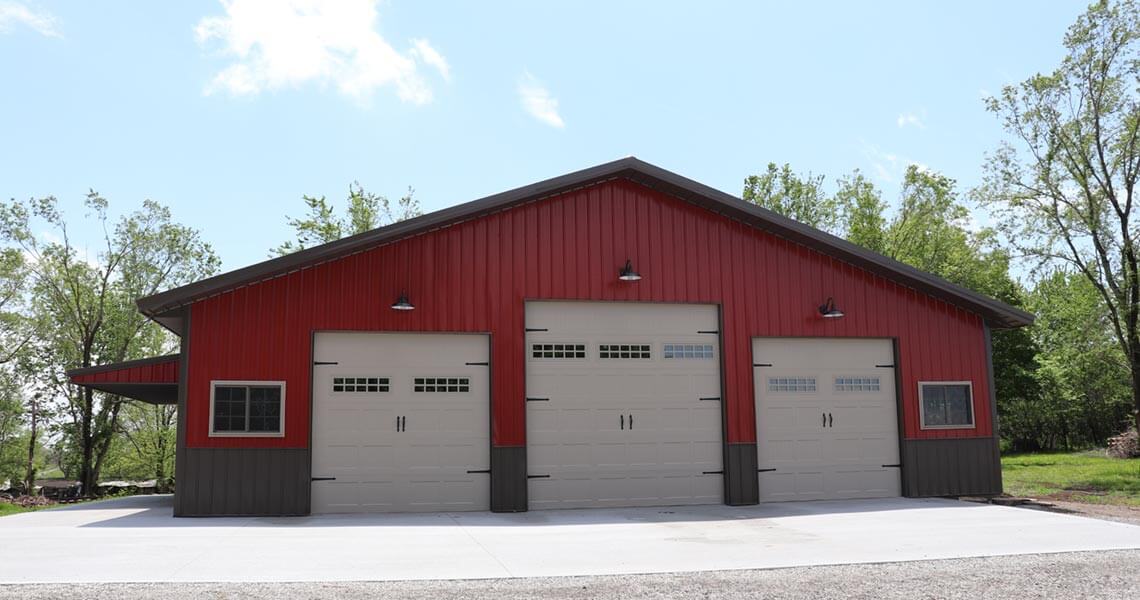 If you're using a Worldwide Steel Building as your primary residence, staying on top of routine preventative maintenance is often front and center. It's your home, and you want it to look nice, be dry, stay warm in the winter and cool in the summer. You may even consider regular renovations to keep up with your family's changing needs.
But metal buildings that are more about function than form, like metal garages and metal storage buildings, are more prone to unintentional neglect and lack of upkeep. Because they probably aren't used every day, especially during certain seasons, and because their purpose is more about protecting your things than protecting your family, it can be easier to let basic maintenance slip.
Here's the good news: metal buildings of all types require much less regular maintenance than any other kind of structure. There are many steel building benefits: they're fire-resistant, immune to wood rot, less vulnerable to pests, and durable in the face of natural disaster.
And at Worldwide Steel Buildings, we are the original building manufacturer, so we have full confidence in the product we pass along to our building owners. We know that our metal building kits will require less regular maintenance over the lives of the buildings than traditional construction, no question. Our team is so confident in those facts that we offer a best-in-class 50-year structural warranty on every metal building kit we sell. We guarantee that with normal use and operation, your web steel trusses will be defect-free in material and workmanship for a full fifty years.
However. Does that mean you can erect your metal garage or metal storage building and completely ignore it for decades? We certainly don't recommend it. It doesn't take long for a very minor issue, like discoloration or corrosion on a building's surface, to become a more serious problem just because you didn't think it was a big enough deal to address.
There are some simple, hassle-free steps you can take on an annual or biannual basis to ensure your steel building stands the test of time and keeps everything inside it safe. Check out the following metal building maintenance tips:
An Easy Guide to Metal Building Maintenance
Create a maintenance checklist. Keep a paper copy in the steel building as well as a digital version. This helps you keep track of routine maintenance tasks, track any repairs or renovations that have been made over the years, and allows you to pass maintenance inspections on to someone else if you're ever unable to perform them.
Inspect the interior and exterior twice a year. Metal buildings are sturdy enough that they don't need to be coddled, but they should get your attention about twice a year. We recommend spring and fall, after the harsher conditions of winter and summer have abated. The only exception to the spring/fall advice is in the case of excessive winter snow. If your metal building's roof has a heavy layer of snow buildup, use a snow rake to remove it.
Clean the gutters, if your building has them. Gutters are a metal building's first line of defense against moisture. Make sure any downspouts are clear of debris as well.
Inspect the building's surroundings. Do you see any ground settlement around your steel structures? Are there any large tree branches overhanging the roof, bushes growing too closely to the structure, or root systems creeping their way toward the building? Metal building maintenance issues are usually due to external forces, not deterioration of the building itself.
Scan along the foundation. Look for any signs of shifting in your steel panels, as well as signs of rodents burrowing underneath your building.
Check the insulation. Insulation plays a major role in keeping what's inside your metal garage or metal storage building in good condition. Make sure there isn't any moisture damage, animal damage, or potential for electrical hazard.
Oil the hinges. This is important for standard doors, and extra important for overhead doors. Keeping them moving smoothly will prevent potential problems over the long-term.
Check window and door seals. Any opportunity for the outside to get inside your metal building could lead to trouble. Ensure everything shuts tightly and seals correctly. If you have any skylights, remember to check your roof panels as well.
Replace any missing screws, and tighten those that may have loosened. Natural expansion and contraction of building materials due to weather changes can loosen screws in a metal building, which could eventually begin to let in the elements.
Check for any scratches or gouges in the walls. Especially if your metal storage building or garage is used to keep heavy machinery or construction materials, accidents can happen, and buildings can be damaged.
Clean the exterior with a power washer. Dirt, pollen, bird droppings and fungal growths that occur naturally could eventually lead to oxidation if they aren't cleaned off regularly. Any especially dirty areas may need extra attention with a soft-bristled brush.
Overall, you'll find that metal buildings are really very easy to maintain. As long as you watch out for little issues, generally caused by external factors, and address them before they turn into bigger problems, there's no type of building material that's lower-maintenance than steel.
To learn more about our DIY steel building kits and 50-year structural warranty, just give us a call at (800) 825-0316.