Pole Barn vs. Steel Buildings: 7 Reasons to Choose Steel Over Pole Barn Buildings
Posted on January 30, 2017
Traditional metal and/or wood pole barn buildings (those raised with no concrete foundation) are suitable for some people who want a quick and easy agricultural building, but many who choose them wind up playing the coulda-shoulda-woulda game when they realize what they could have gotten by choosing a Worldwide Steel Building instead.
If you're weighing your options, think beyond the basic wood pole barn kits. Consider how much more you get — immediately and into the future — with a metal barn instead. 
Check out these seven things you can get with a Worldwide Steel metal building that you can't get with standard pole barn building construction:
1. Vertical Space (A.K.A. Clear Span)
Based on traditional pole barn construction, a pole barn can only rise so high for the sake of security in certain weather conditions. Even at limited height, it will tend to be more susceptible to the wear and tear of extreme weather.
With a steel building, the sky's the limit for vertical space. The durability and strength of our steel trusses, girders, and framework offer incredible weather resistance. We like to say Worldwide Steel buildings can withstand anything Mother Nature has to offer.
2. More Roofing Options
With a pole barn, roof options are limited to designs that coordinate with the layout of pole supports. In other words, things can get complicated and expensive if you want to get more creative than a typical pitched shed.
Choosing a steel building with a custom steel frame can give you the roof style you want whether it's shed, hip, gable or gambrel. Want to throw in some skylights for natural lighting? A steel building can do that, too.
3. Open Floor Plan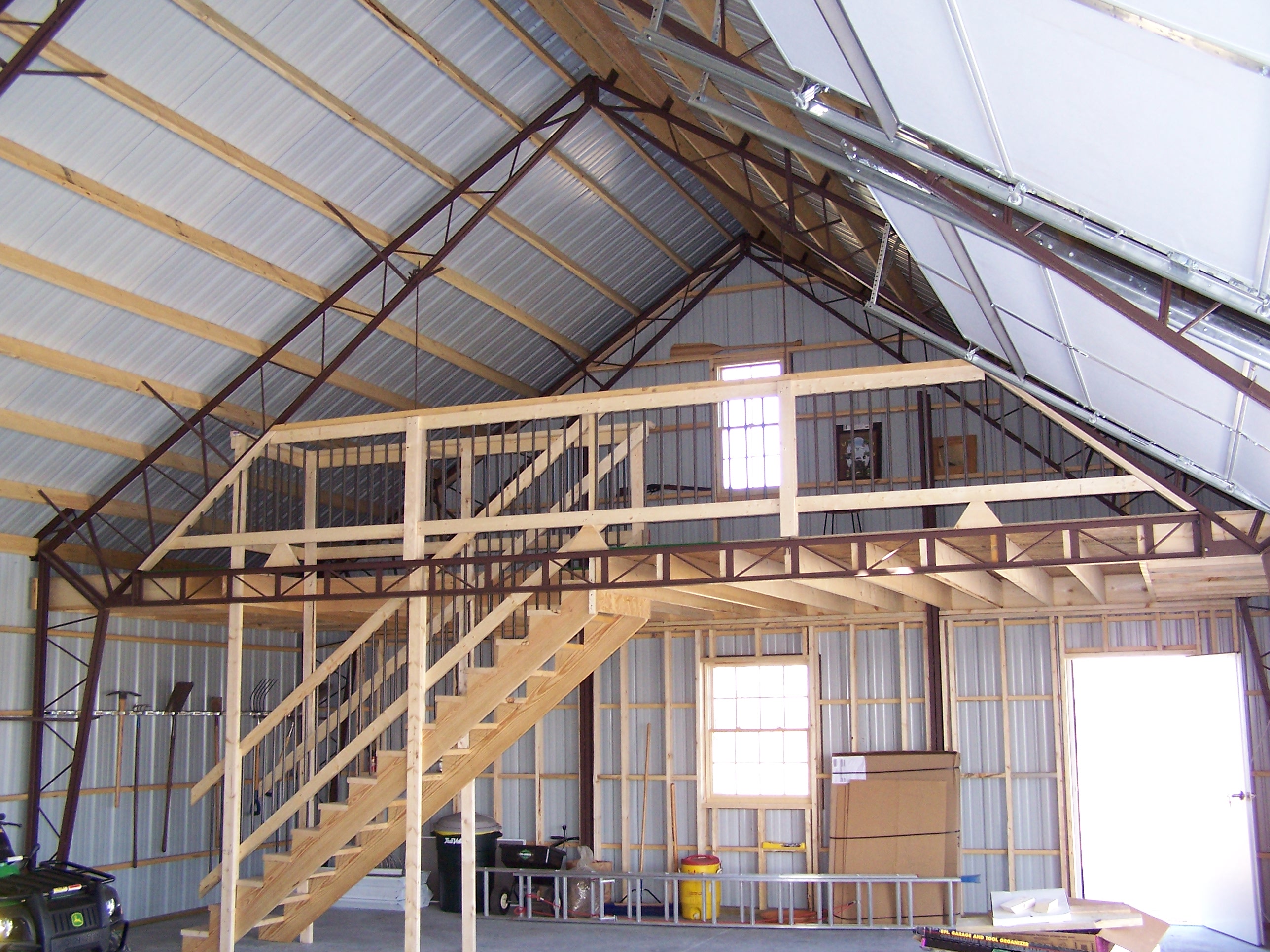 The point of adding an auxiliary building is often to meet some sort of storage needs. If this is your main focus for your building, you'll end up losing a lot of space with interior structural poles in the way. These also make it difficult to navigate large equipment. Prefab steel buildings help to get the most out of your potential storage space because they're supported by trusses and framework that can create a completely open floor plan — no pesky steel columns impeding your open floor plan.
4. Mezzanine Ceilings
Because of the interference of support poles, it is practically impossible to integrate a mezzanine into a pole barn design.
If you need an elevated area in your structure to oversee work down below, or to create office or lounge space above, a steel building is your best option. Our prefab building kits can support lofted second stories for almost any purpose. 
5. Customizable Extras & Add-Ons
Nearly endless extras and add-ons make steel buildings a more attractive option than standard pole barns. For instance, a steel building's frame can handle the load for free-hanging eve extensions and multiple types of large mechanical garage doors, while a pole barn's can't.
These custom features can be used to increase the functionality of your building, while also giving you more options to personalize the overall style of your structure.
6. Longer Lifespan
Here's where building material really comes into play: longevity. Why spend loads of money on a wooden pole barn building that will rot in the ground or be compromised by termites over the years? A dirt floor and wood post frames have nothing on the concrete floor and high-quality trusses and girts that make up a steel frame building. Choose the stronger option that's built to last. Concrete piers and sound anchoring increase our steel building's structural integrity, which means it'll be stronger and last much longer than a pole barn … and with way lower maintenance costs.
7. Options For Growth
Think expansion may be necessary in the future? You'll have to tear down that pole barn in order to expand. However, our steel buildings are easy to expand, thanks to the live trusses. This means that instead of starting from scratch in a few years, you can simply build upon what you already have!
So, what are you waiting for? The professionals at Worldwide Steel Buildings are waiting to answer your questions! Give us a call at (800) 825-0316 for more information on our industry-leading 50-year structural warranty and a free quote on your steel building price (here's a hint — you might be pleasantly surprised by our metal pole barn prices). 
Want to try it before you buy it? Take advantage of our FREE 3D Building Designer! Click here to get started.