Steel Barndominium
Customer Journey with the Chapman Family in Dubberly, LA
The latest trend in the residential construction industry is designing customized residential structures with steel trusses and utilizing low maintenance materials such as metal roofing and metal siding.
Steel Trusses and Columns
"Hurricane Laura came though Lake Charles nearby us. We watched the eye of the storm go right over us from the front porch! We ended up with ZERO damage."

~Travis
Utilizing steel trusses and steel columns as your primary framework provides the strongest structure available, far beyond that of 'stick built' construction and it can withstand tremendous weather conditions.
Building Materials
"Once we got the columns up, the building came together fast."

~Travis
At a glance, this framework appears to be of wood construction, but underneath the secondary wood framing are solid steel columns and solid steel trusses that create the strength within the structure. Builders have the option to utilize metal or wood to finish out the secondary members. Many builders will also incorporate brick and stone into the exterior façade of the home for a more finished look.
The Outer Shell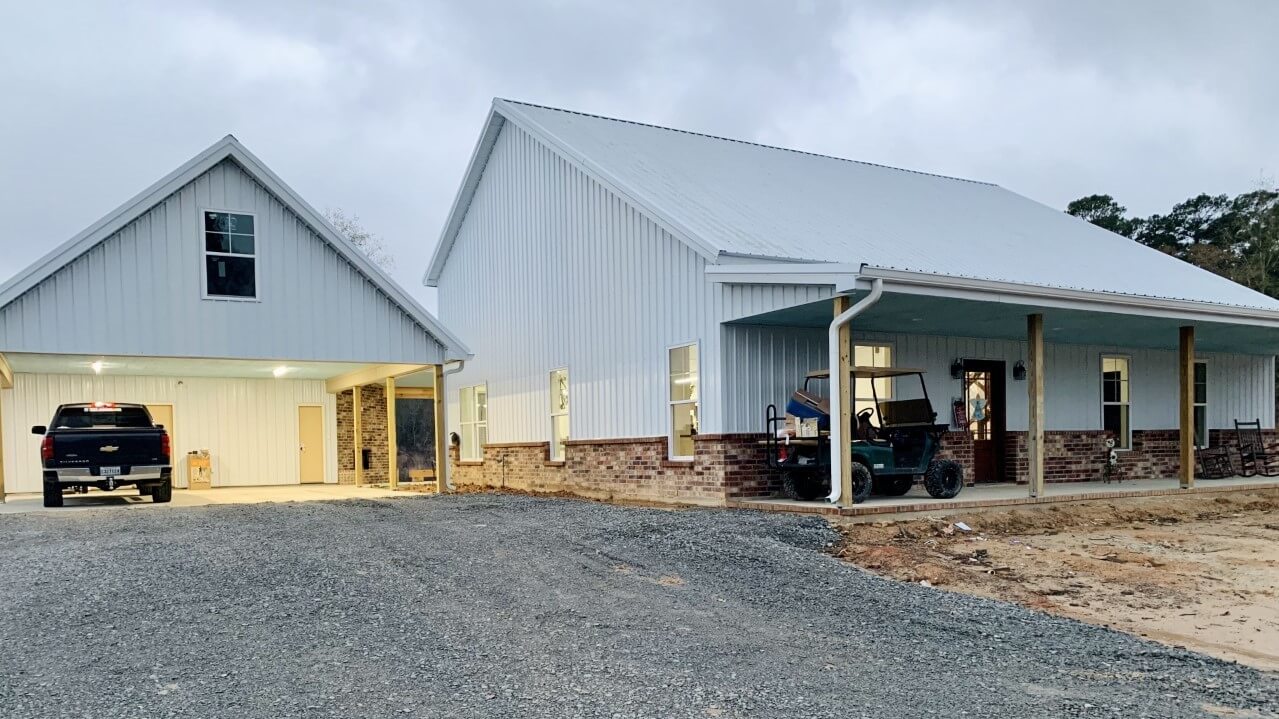 The Chapmans chose metal roofing and siding with a brick wainscot to complete the look of their maintenance-free home that will provide a long lasting, outer shell for decades to come.
Travis was able to build their new home himself with the help of a close neighbor who happens to be a GC and builds/renovates homes for a living. This helped the installation process go very smooth.
Lofty Barndo Style
The Chapman's new steel home features vaulted ceilings, a concrete slab with a custom stain applied, open cell spray foam insulation, 2 AC units that only run a few times per day and a gas log fireplace that warms the entire 3,100 SF by 4* degrees in just five minutes.
Interior Styling
The true beauty of a steel home is that your interior finishing elements are a blank canvas for complete customization. You can encase your trusses with sheetrock or any type of material you chose. You can create just about any design style from the ceilings to the walls as well as the flooring.
Cozy Outdoor Living
The Chapmans chose to utilize the building overhang for a covered porch area to enjoy their backyard view overlooking 37 acres. They installed a built-in grilling area, refrigerator and outdoor sink set in brick for entertaining nearby family and friends just up the road.
Pecan Trees and Pines
"It was a Gem doing business with Worldwide and Pat was great to work with. I planted a ton of pecan trees in the yard for future harvesting. We will be recommending Worldwide to everyone on those Facebook barndo building pages."

~Travis
At Worldwide Steel Buildings, we are your one stop shop for all aspects of designing and building your new dream home. We cut out the middle man for cost effective, DIY metal building kits because we are the manufacturer with our own fabrication facility. Our clear span framing allows for maximum space usage and our 50 year structural warranty is the best in the industry. Call us at 800-825-0316 or contact us for more information.