Southern Style Barndo
Customer Journey with the Merck Family Easley, South Carolina
Barndominium Details:
40' x 80' Building Footprint, 16 ft. Tall Sidewalls Primary Steel Truss and Steel Column Framing 6:12 Roof Pitch, Galvalume Roof w/ Lifetime Warranty 40' x 36' Garage/Shop Space Second Level Mezzanine Loft Space 2,500 SF Total Living Space w/ Heated Concrete 3 Bedrooms, 3 1/2 Bathrooms
Foundation Creation
Plumbing can be placed prior to the layer of gravel pad and then concrete poured over it before the installation.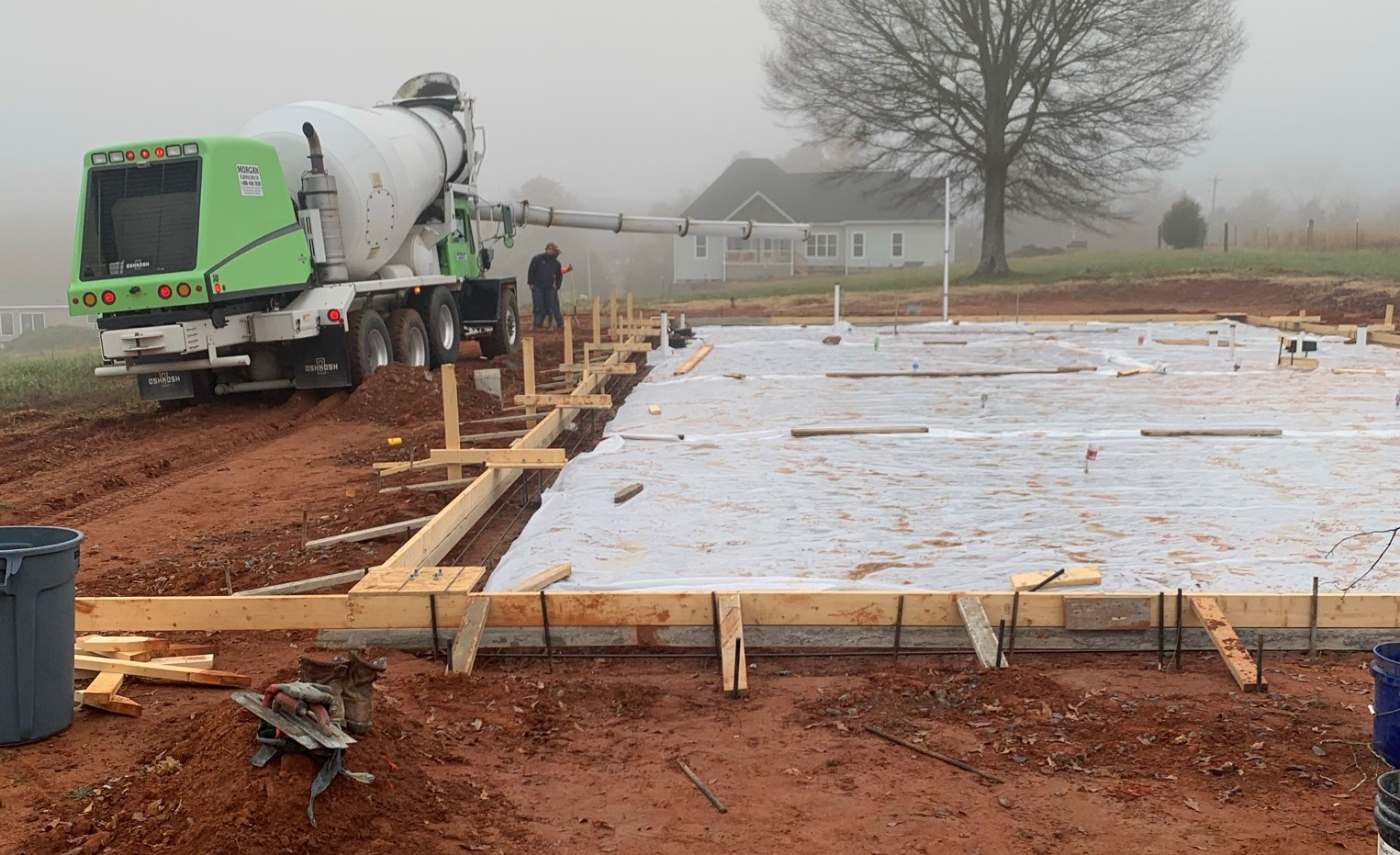 Setting Columns & Trusses
"I was searching for a steel truss fabricator online and found Worldwide. We love working with steel construction over stick built."

~Kip
Worldwide steel trusses are jointed to the columns with large bolts that can resist both vertical and horizontal movement for the most sturdy frame available on the market.
Secondary Framing
Once you have your columns and trusses set, you can begin the secondary framing of the roof, sidewalls and even your porch. The Mercks chose to use wood as the material for their wall girts and roof purlins instead of metal, making it a hybrid steel building.
Interior Wall Placement
The general contractor chose to build out their interior walls as well as the second floor level at the same time for a seamless process that creates efficiency during the building phases.
Second Level Install
The beauty of a second-level area is that you can increase your living space in the same footprint of the main level for more efficiency.
Window Placement
Once your secondary framing is installed, you can begin your window and door installations. The builder chose to do this aspect of the build before they applied the outer shell.
Sheet Metal Roofing
The builder chose to install the roofing first before the side walls.The builder chose to install the roofing first before the side walls.
Side Wall Install
The outer shell was the final phase of the install of the building itself before moving on to the interior construction.
Interior Design Time
The Mercks chose to sheet rock the interior walls and leave the high ceilings open with exposed trusses and duct work for an open concept design style that is very popular with barndominium builds.
Worldwide's clear span framing does not require any internal support beams so your wall placement is not restricted and can be framed up as needed.
Custom Wood Accents
"We chose to work with a local saw mill to create a pine wood plank wall design that was kiln dried for the interior space along with some sliding barn doors."

~Kip
Barndo Lovers Unite
"Our small barndo community on 23 acres is growing fast. We already sold seven lots. We built this one for my son. Next is one for my daughter and her husband. We already have several orders from Worldwide to build more!"

~Kip
Our building design experts are available to answer any questions you may have about your garage shop project.
Call us at # 800-825-0316
or visit us online at
WorldwideSteelBuildings.com
for more information.