Trending: Steel Homes
Customer Journey with the Malm Family in Canton, MA
The latest trend in the residential construction industry is designing customized residential structures with steel and utilizing low maintenance materials such as metal roofing and metal siding.
The movement for economical construction is lead by individuals who tokened the phrase "barndominum" which comes from combining living quarters in a barn-like structure or metal building. It provides a lifestyle for families who prefer an open-concept living space attached to their workshop, garage and storage area all in one structure.
Daniel Malm already had enough knowledge from working in construction and by having access to unused project materials, he was able to save a few extra bucks. He decided to build his own barndominium without hiring a general contractor. He received his steel materials from Worldwide Steel and the installation went off without a hitch.
Steel Truss Construction
Steel truss construction provides the strongest structure far beyond that of stick built construction and can withstand tremendous weather conditions much better than traditional houses with wood siding and asphalt roof shingles.
At a glance, this home appears to be all wood construction, but a closer look underneath the framing are solid steel columns and solid steel trusses that create much more strength within the structure. Builders have the option to utilize metal or wood to finish out the framework.
These barndo structures typically feature engineered concrete slabs, often with a trendy stain to enhance the floors, spray foam insulation, energy-efficient windows, efficient plumbing and high ceilings. Basements are no longer necessary as part of the foundation.
Building with Steel
Step 1
A solid finished concrete foundation was chosen rather than a basement foundation, which is much more economical with less materials needed for plumbing and HVAC systems.
Step 2
Setting the steel columns onto the finished concrete formation creates a lifetime of structural integrity without issues like wood rot or termite damage.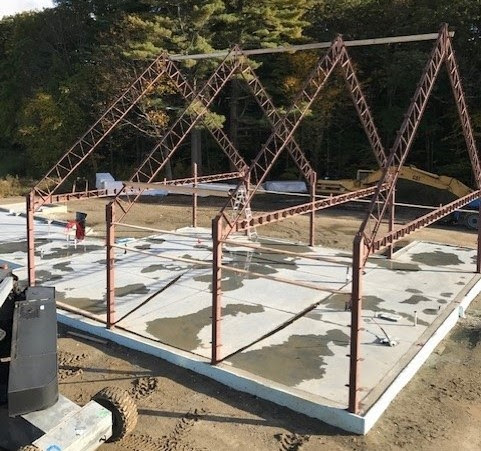 Step 3
Setting the steel trusses may appear to be difficult, but it's really as easy as matching up Part A to Part B using a lift machine that can be rented at most local hardware stores.
Structural Framework
Setting the Roof Purlins in place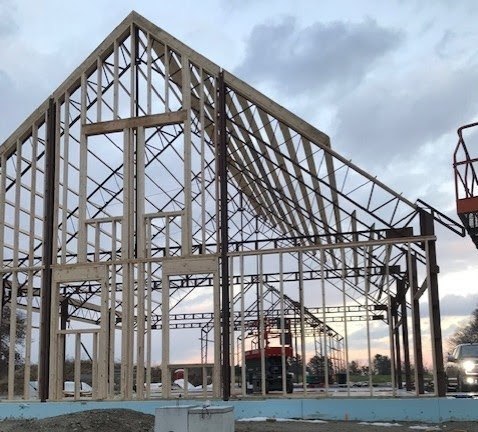 Setting the Wall Girts in place
Lofty Barndo Living
Mezzanine kits are bolted directly to the steel trusses. You can order your trusses with pre-punched bolt holes for a mezzanine system to be installed at the during your build, or if you are planning to add your mezzanine at a later date. Either way, you have the flexibility you need to customize your build to your design specifications.
When you add a steel mezzanine to your building kit, you are increasing the usefulness of your interior space by adding a second floor within the same building footprint. Your mezzanine joists can be set at any height for steel floors that have high load-bearing weight capacity.
The Outer Shell
Sheathing can be done with various lightwood materials. Typically, OSB (oriented strand board) or plywood is used as the exterior cladding to create straight, smooth walls.
Polyisocyanurate is a rigid foam insulation with a vapor barrier that creates airtight, energy efficient cladding underneath your choice of siding and roofing materials.
Daniel chose metal roofing and siding to complete the look of his maintenance-free home that will provide a long lasting outer shell for the home.
The Inner Shell
Most barndo builders are utilizing spray foam insulation due to its energy efficiency rating. When installed correctly, it significantly increases the sealed 'envelope' of your home, meaning your HVAC can handle extreme temperatures better with reduced energy consumption.
The true beauty of a steel home is that your interior finishing elements are a blank canvas for complete customization. You can encase your trusses with wood, or leave them exposed for a more industrial look. You can create just about any design style from the ceilings to the walls as well as the flooring.
Lofty Barndo Living
"The ultimate goal was to build a unique home with 28 ft high ceilings. We chose to leave the trusses exposed for the trendy industrial design style and we love it!"
Our building design experts are available to answer any questions you may have about your building project. Call us at 800-825-0316 or contact us for more information.