Haven on the Farm
Customer Journey with the Graham Family in Peoria, Illinois
From a pile of steel framework to a stunning wedding venue, Worldwide can help make your perfect building come to life.
From the Ground Up
SPECIFICATIONS:
Gambrel Style Roof Line
Secondary Wood Framing
70' Wide x 100' Long
16' Sidewalls
Gambrel Trusses
Gambrel rooflines use a combination of two different pitches on each side of the structure, with a gentle slope above a steep angle. This roof style maximizes interior space near the roof while still allowing precipitation to roll off the building efficiently and effectively.
Primary Framework
This classic style barn design goes back decades when farmers needed space for hay storage in the upper loft area. A century later, we are still designing gambrel style barns, now fabricated and constructed with American steel.
Gambrel building kits from WWSB are more resistant to corrosion, weather damage, fire, and standard wear and tear. Overall, the pricing of a steel gambrel frame building will beat traditional construction in the long-term. Lower construction costs, lower maintenance costs, same classic design as your Grandpa's barn!
There's not a lot of companies out there that offer such a unique building kit, but we can provide this option because we build our own trusses in our own facility.
Secondary Framing
Once you have your columns and trusses set, you can begin the secondary framing of the roof and sidewalls. The Grahams chose to use wood as the material for their girts and purlins instead of metal, making it a hybrid.
Concrete Foundation
Concrete can be done after the main structure of the building has been erected. The Graham's installed all the plumbing before the concrete was poured.
Sheet Metal Roofing
With a gambrel roofline, the bottom sections need to be installed first so that water runs off the upper roofing sections and flows over the bottom section without penetrating the roof.
Partial Mezzanine
Open Staircases leading up to the Secondary Level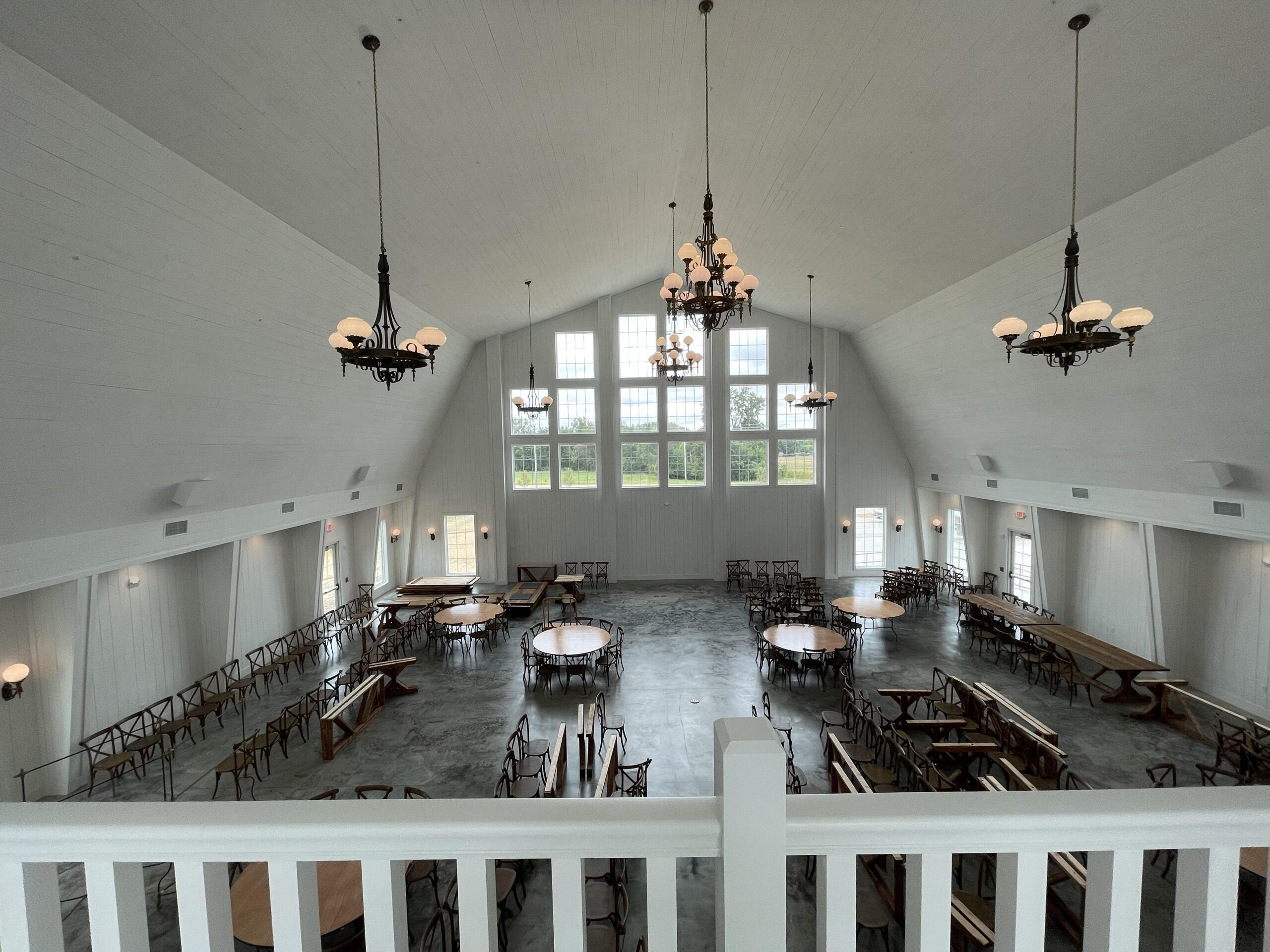 Lighting Effects
High ceilings allow for lots of windows! Placement of windows based on sun exposure can provide natural light to create a unique ambiance at certain times of the day and also in the evening if you install lights around the perimeter.
Customizations
The Grahams chose to sprinkle wood accents throughout the space. Solid wood doors always bring character and authenticity to a space that is built to attract and impress.
New Wedding Venue
Large and solid, this fresh event space will be around for a long time and many people will get to enjoy the special architecture and ambiance of this unique build for decades.
Our building design experts are available to answer any questions you may have about your steel frame barn project.
Call us at # 800-825-0316
or visit us online at WorldwideSteelBuildings.com
for more information.