Evermore Dream Home
Customer Journey with the Mathias Family in Easley, SC
"Once our children moved out and on their own, we knew we wanted to live on a one story for our forever home." ~Amy
Dave and Amy had the opportunity to build their custom dream home in a newly developed 23-acre Barndominium community that is being developed by builder Joel McCall and Kip Merck. 
Foundation Creation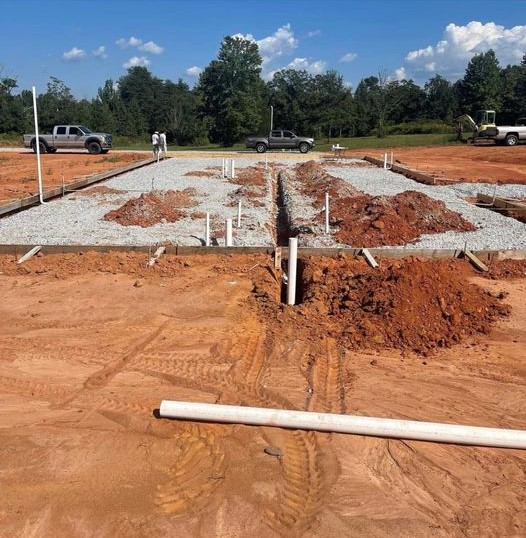 Setting your plumbing pipes and materials into your gravel building pad before concrete is a great start when you already have your floorplan designations and know where everything is going to go for your interior framing and layout.
Primary Steel Framing
Worldwide's steel trusses are jointed to the columns with large bolts that can resist both vertical and horizontal movement for the most sturdy frame available on the market.
Secondary Wood Framing
Once you have your columns and trusses set, you can begin the secondary framing of the roof and sidewalls. Amy and Dave chose to use wood as the material for their girts and purlins instead of metal, making it a hybrid building.
Roof Underlayment
Underlayment is a vapor barrier or water-resistant material that's put under metal roofing and installed directly onto the roof decking, which is typically plywood, OSB or plank. It's applied under all of the other materials, and it provides an extra layer of protection against extreme weather conditions. The three main types of underlayment for metal roofs include felt, synthetic sheet, and self-adhering membrane.
Interior Framework
The beauty of clear span space is that you can create a second-level area increase your living space in the same footprint of the main level for more efficiency.
Insulation Choices
Metal building insulation comes in a variety of options. Amy and Dave chose to use traditional rolled blanket insulation. One important factor is the high R-value rating. Options range from single-layer six-inch-thick R-19 batts to a twelve-inch thick double-layer with an R-38 value.
Customizations
"It was important for us to have a half bath in the garage as well so we could wash up before going into the home." ~Amy
Interior Finishings
"One of my favorite rooms is the Sunroom! From our kitchen window across the street we look at an old red barn that has an old canning steam engine." ~Amy
Kitchen Design
"Our interior features the spiral exposed ductwork in the main living and exposed trusses throughout. We love the industrial feeling mixed with a country vibe." ~Amy
Happily Evermore
"It truly is everything we dreamt of. Dave and I designed the floor layout. Joel and Kip were an absolute pleasure to work with. We can't thank them enough. We hope to have many years of memories at Evermore with our family." ~Amy
Our building design experts are available to answer any questions you may have about your Barndominium project.
Call us at # 800-825-0316 
or visit us online at WorldwideSteelBuildings.com
 for more information.