The 'FrankenBuilding'
Customer Journey at Big Dog Ranch in Lee's Summit, MO
Multiple Building Styles rolled into a Unique Barndo Design
Kickoff: Ground Prep
Step 1 Removal of all trees, limbs, brush, big rocks and debris around the job site while working towards a solid, level area while filling in any low spots with extra dirt.
Step 2 Excavation and 'grading' the area to ensure the building pad will be precisely the same grade from corner to corner, assuming the ground has been settling long enough. A Transit leveling laser will be needed for this aspect of your build.
Foundation Creation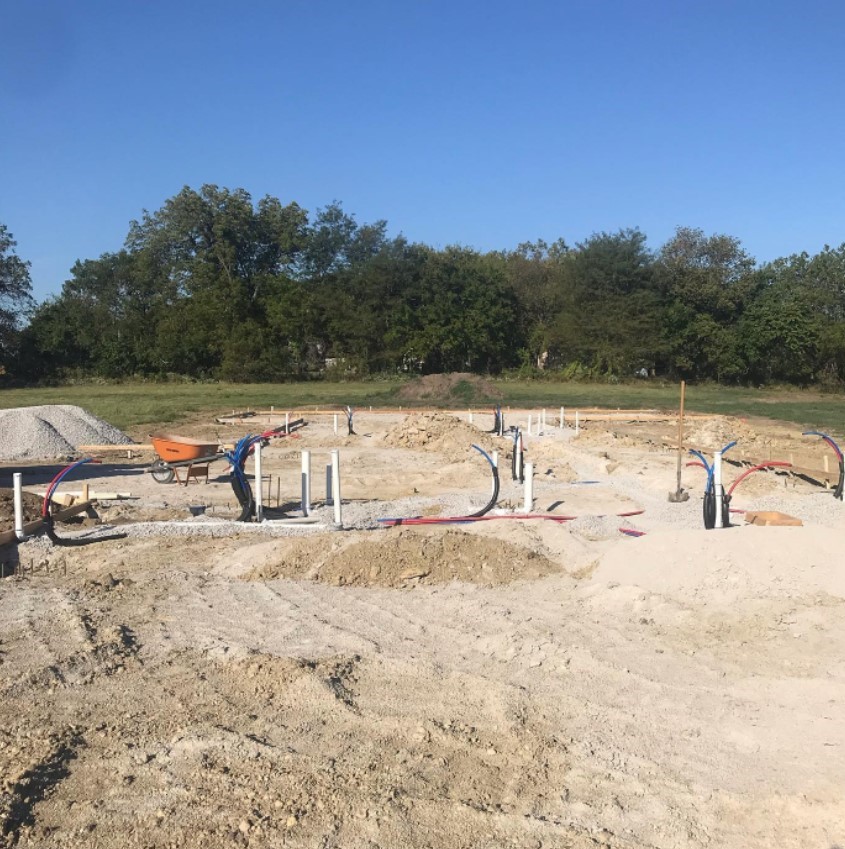 Step 3 Placing your plumbing and electrical at the same time as your footings before pouring concrete is typical for a barndominium foundation. After that, concrete can be poured at least 4 inches deep, depending on the level of support needed inside each section of your structure. Equipment storage space may require 6 inches.
Step 4 Once the concrete foundation is poured and has cured for several days based on sun and heat, you are ready for the building installation components to be brought in and laid out for assembly.
Setting Columns + Trusses
Step 5 Bolt down the columns to your concrete as shown in your structural drawings. Once your columns are set, you can begin bolting the trusses to the top of the each column.
Step 6 Once the primary framework is up, you can begin hanging your wall girts and attach your roof purlins. A scissor lift is very handy for this aspect of your build.
Roof Purlins + Wall Girts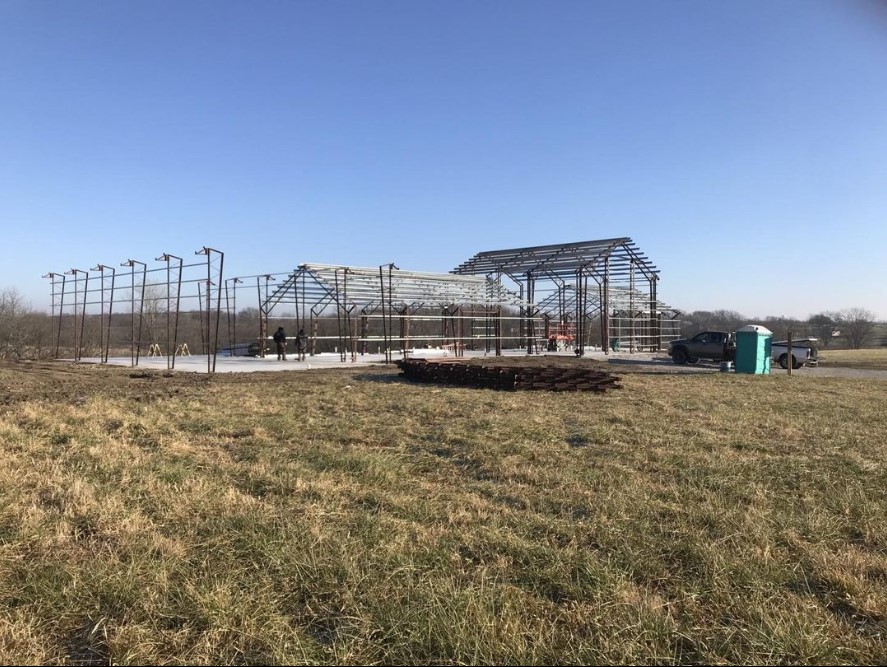 An all metal building utilizes metal purlins and girts rather than wood in the secondary framing. While installing these elements, you are also creating the spaces for your doors and windows around the wall columns and end columns.
Side Walls + Roof Panels
Once your primary framework and secondary framework is assembled, you can start hanging your outer shell roofing panels and wall panels. You can also install insulation during this process or at a later time, depending on what type of insulation you choose for your climate and usage.
Insulation Choices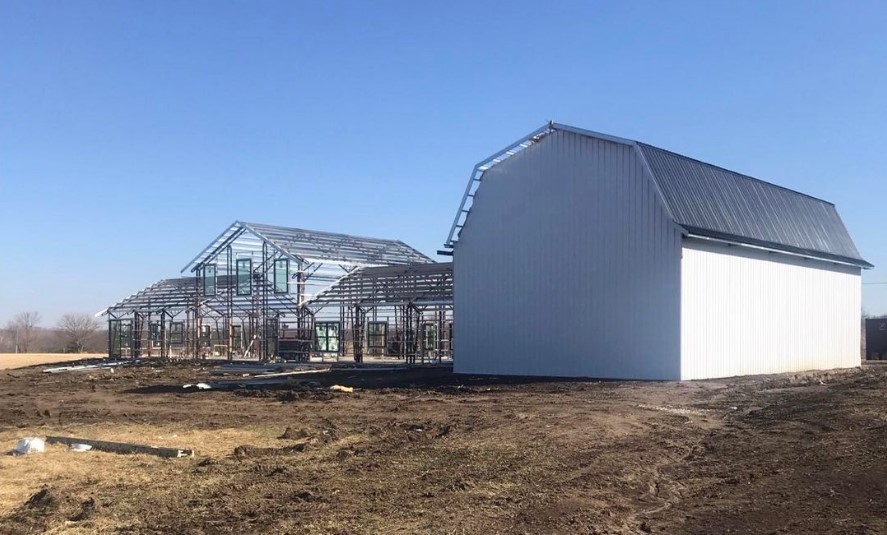 Big Dog Ranch chose to install a layer of insulation between their secondary framework and the roof/wall panels to create an exterior weather resistance for climate control in their space.
Mezzanine Kits
When you add a second level mezzanine plan to your building kit, you are increasing the usefulness of your interior space by adding more square footage within the same footprint. You can also maintain high ceilings when designing with Worldwide's steel columns, because your mezzanine joists can be set at any height for wood flooring and also for metal flooring that provide high load-bearing weight capacity.
Custom Finish Options
Most customers envision multiple exterior customizations as well as interior customization options. In this custom build, the choice was a modern, custom double glass front door to complete the finished look of the one-of-a-kind front entry, along with black frame windows and solid black overheads.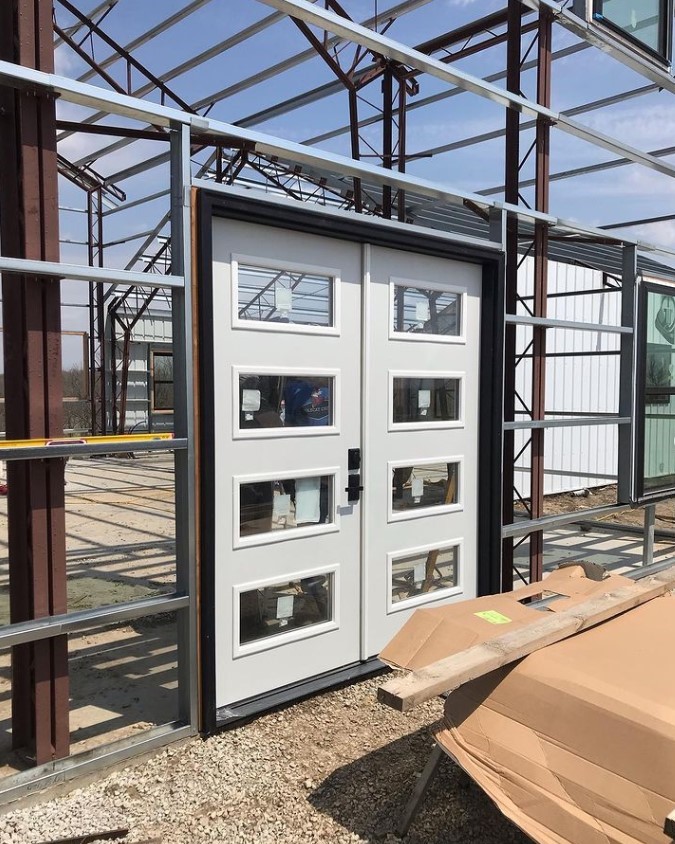 Finished Exterior
Get more details about the ongoing interior buildout of this Worldwide Steel Barndominium Customer Journey on Instagram @frankenbuilding
Our building design experts are available to answer any questions you may have about your barndominium project. Call us at # 800-825-0316 or visit us online at WorldwideSteelBuildings.com for more information.