Sometimes, you have to make a responsible, educated leap of faith to make your dreams come true. And when that dream happens to require investment in a physical property — whether it's finally becoming a homeowner by building a new metal home or barndominium for your family, a new metal garage to support your independent vintage car repair shop, a commercial building so you can expand the footprint of your small business, or a horse barn, so you can finally have a horse of your own — the dream may well come before the dollars.
Worldwide Steel Buildings understands that, and we don't expect our customers to pay for their entire metal building kits up front, no matter what their goal or financial situation. That's why we offer metal building financing options that are attainable for just about everyone.
Metal Buildings That Are Easy to Build and Easy to Afford
We know it's important to your personal and corporate financial success to have the space you need when you need it. Oftentimes, that means you need to invest in your metal structure before the money can follow. That is why financing options are available on every building kit, to those who meet basic criteria.
Worldwide Steel Buildings is happy to offer financing services that can help you make your dreams a reality and allow you to build when you need to.
Plus, our metal building kits are cost-effective anyway (especially compared to a traditional home), so the monthly payments you'll make on your low-maintenance, long-lasting building should be reasonable and affordable.
How to Qualify for Financing
Financing for a metal building kit is easy to get. There are no upfront fees, no prepayment penalties, and no appraisal required. Unlike with many other contracting agencies, equity is not required for metal building kit financing.
Want to finance your metal building, but worried your credit score or credit history will keep you from being approved for metal building financing? We truly encourage you to enquire regardless. The lenders we work with will be able to modify your loan terms based on building cost, down payment, and other factors that are within your control.
Our lending partners offer competitive interest rates and specialize in construction loans, so you can feel confident you're working with people who know what they're doing (both at our lending partner, New Century Bank, and at Worldwide Steel, where we manufacture your steel structures ourselves — no middle man).
What Kind of Metal Building Kit Will You Finance?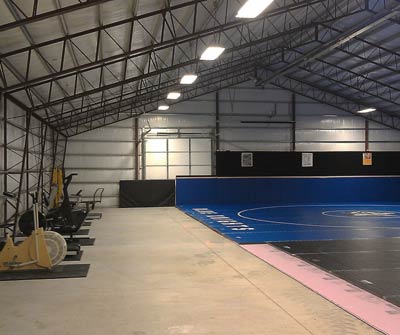 We cannot stress this enough … it's whatever kind you want! Worldwide Steel offers a wide variety of steel and metal buildings in all shapes, sizes and finishes. From a modest carport to an imposing storage building or crowd-ready community building, no construction project is too big and no construction project is too small.
You can choose the size and style that fits your needs. See our steel building kits page to see different types of buildings, the assembly process, and the tools and equipment needed to complete your project. Then start designing your building online with our 3D Building Designer Tool to see just how customizable our building kits really are.
Did You Say Customize?
Sure did. Worldwide Steel buildings are extremely versatile. You can choose from over 42 million variations of designs and add-ons. With our available building accessories, you can customize everything from the dimensions, colors, and exterior finish, to adding lofts, cupolas, skylights, and more. There really is no limit to what you can do with a steel building!
We can't wait for you to find out firsthand.
Let's find the perfect type of loan for your new metal building project, together. Contact us or call (800) 825-0316 to learn more about beginning the financing process.