Category Archives: Projects
As you sort through our wide variety of metal building options, you may become overwhelmed with the many options we offer. However, there's no need to worry! You don't have to get a civil engineering or structural engineering degree to successfully design and build a structure that stands up to whatever gets thrown at it, from heavy use to high wind loads and snow loads. The experts at Worldwide Steel Buildings can help you from start to finish to make sure you get exactly what you're looking for in a steel building.
Still, most of our customers like to understand exactly what they're buying and building. One of the most common questions we get from our customers is about the structural design types available in our building kits, and the frame elements that each is composed of. Specifically, about how to choose a truss design. What are the differences between open web truss and rigid frame steel buildings? How do you decide which roof trusses are right for which type of structure? The answer is different for each customer, but to start, you'll want to consider the following:
The use of the building

Size of the project

Location of the building

Weather conditions

Budget
With those items in mind, let's take a closer look at these two primary types of truss structure (open web truss and rigid frame) available in our steel buildings to help make your decision clearer.
What Is an Open Web Truss Steel Building?
There are multiple types of truss, and Worldwide Steel Buildings primarily uses an open web steel truss. These are roof framing systems composed of hollow steel truss members which are connected by pin joints. They are plane truss systems, which means all the web members and nodes lie on a two-dimensional plane (opposed to a space truss system, which is three-dimensional). 
Our open web truss frame systems are ideal for clear spans up to 225 feet, which makes them a great option for commercial applications. Further, the gambrel truss option provides the look of an agricultural building or barn. Open web truss buildings are good choices for buildings regularly occupied by customers or employees. For instance, buildings being used as:
Retail stores
Warehouses
Sports facilities
Aircraft hangars
Additionally, we have several designs of trusses and all of them allow installation of insulation, HVAC systems, sprinkler systems, sliding or overhead doors, skylight panels, and many other custom add-ons.
Our open truss building designs don't require heavy equipment to install the trusses, but don't be fooled by the easy assembly. This structure is developed and built to your local wind and snow building codes so that they can last through anything. They are made of 100% American steel and pre-punched and pre-welded before delivery.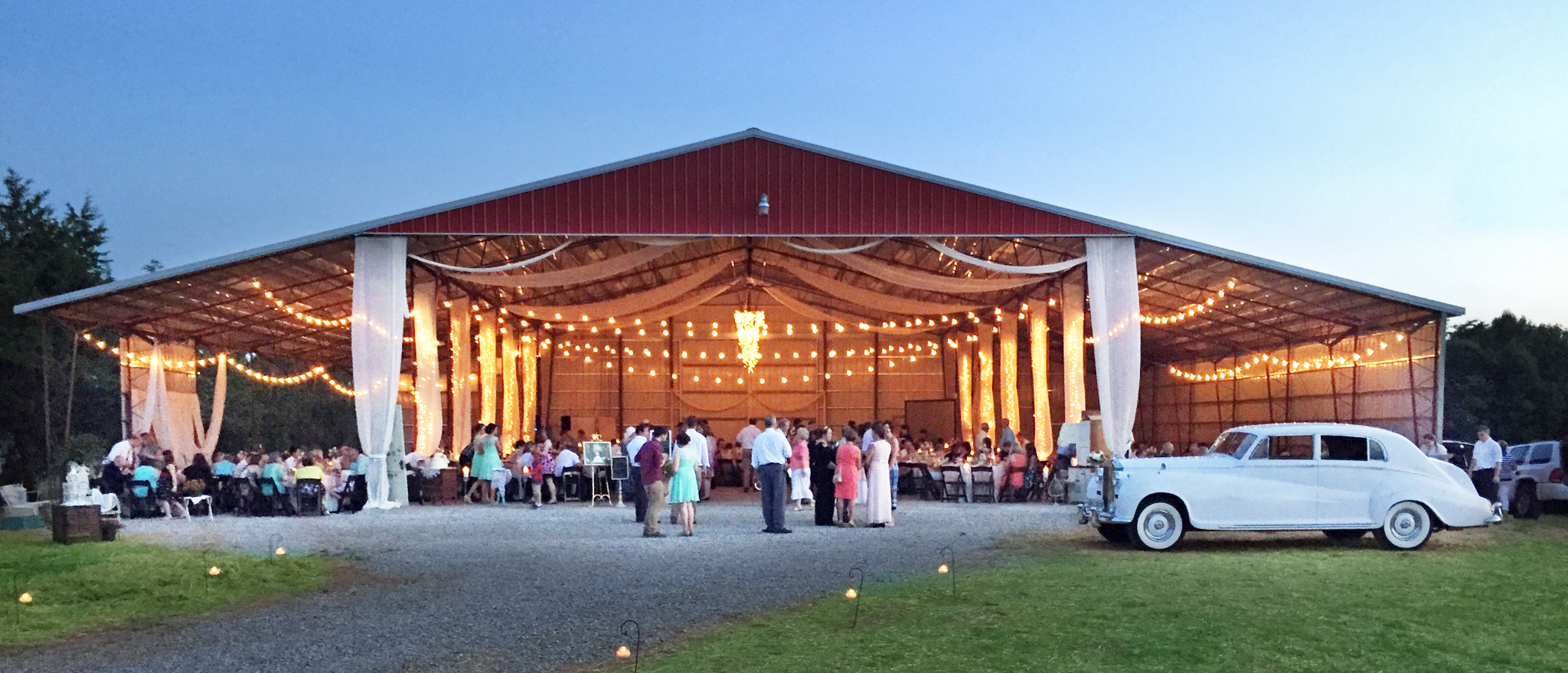 What Is a Rigid Frame Steel Building?
The rigid frame structure is also made of 100% American steel. It allows for the maximum use of open space for storage and mobility due to the large distances possible between structural elements. This style of building is a good choice for:
Warehouses
Manufacturing space
Churches
Agricultural storage for large equipment
Like the open truss building, our rigid frame building is perfect for the DIY project or contractor. The pieces come pre-drilled, pre-welded, and with an easy-to-read, step-by-step instruction manual.
Both our open truss and rigid frame building systems undergo structural analysis, are incredibly durable and able to handle the internal forces and external forces that will act on your steel structure. Regardless of the style, we can design a building for your specific needs. We used MBS design software, and all of our buildings are made in an AISC-MB manufacturing facility. Everything from our raw materials to our manufacturing process is monitored by a third-party to ensure the highest level of quality control, which translates into a simple, straightforward steel building assembly process for you. 
Which One Should You Choose?
If you're still unclear which type of steel building is right for your project, the best way to get some clarity is to consult the experts at Worldwide Steel Buildings. We work with our valued customers tirelessly in order to determine exactly what they need in a steel building.
Get in front of increasing material costs by reserving your metal building today! Give our experts a call at (800) 825-0316 or contact us online and tell us about your project. You can also design your steel building online with our 3D Building Designer by clicking the image below.

Have you always wanted your own man cave, but haven't quite been able to turn it from idea to reality? Good news: there are more ways than ever to design and build your ultimate man cave — for less time and less money than you probably have in mind.
First things first: what — and where — exactly is a man cave? It might just be your home's basement, outfitted with a pool table or foosball table, a dart board, and some jerseys and other sports memorabilia hung on the walls. But we think that's a little boring. Think bigger!
We're huge proponents of a man cave that isn't inside your home. It should feel like a mini getaway every time you're inside. Even a detached garage or small building across the yard can give you much-needed physical and mental space from your everyday life.
Men around the country have purchased Worldwide Steel Buildings metal garage kits and turned them into some truly awesome spaces that make their friends and neighbors jealous. You can choose the size, building elements (including windows and door styles, which could make or break some of these man cave ideas) and finishes to fit what you're looking for. Our steel frame building kits are so easy to put together, even a first-timer can do it DIY-style. From there, it all comes down to interior design. We don't just mean which paint color you choose and where you put the recliner. We mean those inspirational elements that a man cave is built around.
We've got some inspiration to get you back on track! Check out these ten must-have features for the upgraded ultimate man cave.
1. The Boys Need a Bar
You're better than a lone mini-fridge. Every man cave should come equipped with a home bar — a wet bar, more specifically. Slide in a counter, add a few comfy stools, and stock it with all the best craft beers and cocktail fixings. If you're going to do it big, this is definitely one feature you'll need to include!
2. High-Tech Keg
Gone are the college frat days of the aluminum keg in a trash can full of ice. Grownups have a sleek kegerator on wheels with a professional tap on top. Click here to explore all the high-tech options!
3. Upcycled Welding Bench
Maybe your man cave is less about relaxing horizontally and more about pursuing your passions. That's awesome. Create a workshop outfitted with the tools, whether that's woodworking or welding equipment. 
Your personal workshop should be more than functional. It should make a personal statement about the kind of craftsman you are. Check this out: an airplane hobbyist channels his inner pilot with an upcycled airplane lift outfitted as a welding bench!
4. Submerged Lift
Keeping with the hobbyist theme here: You may love to restore a classic automobile from time to time, that's not always what's on the menu in your man cave. Install a submerged hydraulic lift and keep your floor space open in between projects. So much room for activities! 
Psst – if you're occasionally using your man cave for something as large as a vehicle, you'll need to incorporate doors large enough to accommodate it when you're still in the design stages. 
5. The Real Deal Home Theater
Sure, you may have a huge flat screen television with the latest gaming system hooked up and streaming services, but do you have a projector that re-creates the theater experience? How about state-of-the-art surround sound? One master remote control to rule them all? The go-big-or-go-home mentality definitely applies in this situation!
6. An Elevated Game Room
Of course your home theater supports your video game hobby, in almost life-sized fashion. But for the true gamer, that's just the beginning. Want this space to turn into the go-to hangout zone for your friends and neighbors? Hunt down some vintage arcade games and watch everyone get re-addicted to the classics you grew up with. 
In the mood for something a little more physical? Make some room to move while you're wearing a VR headset, or invest in a golf simulator and perfect your swing from your own man cave.
7. Personal Climbing Wall
Why stop at a weight bench and a treadmill? When you're designing your own building to spec for everything your man cave needs, the sky's the limit. If you've got a larger-than-life space that needs filling, get your own indoor climbing wall! Skip the bench press and go vertical.
8. Secure the Goods
Upgrade entry security to "Fort Knox" level with an entry door facade that imitates a bank vault. If that's too over the top for your taste, at least lock up your space with a remote locking system. That way you can play gatekeeper from anywhere! And make sure to add a wifi-enabled security camera for the high-tech gadgets and equipment that will doubtless fill your man cave.
Ready to learn more about what goes into crafting your perfect man cave, or get started on designing and building your man cave? Contact the experts at Worldwide Steel at (800) 825-0316 for more information on how we can make your man cave a reality with our steel building kits!